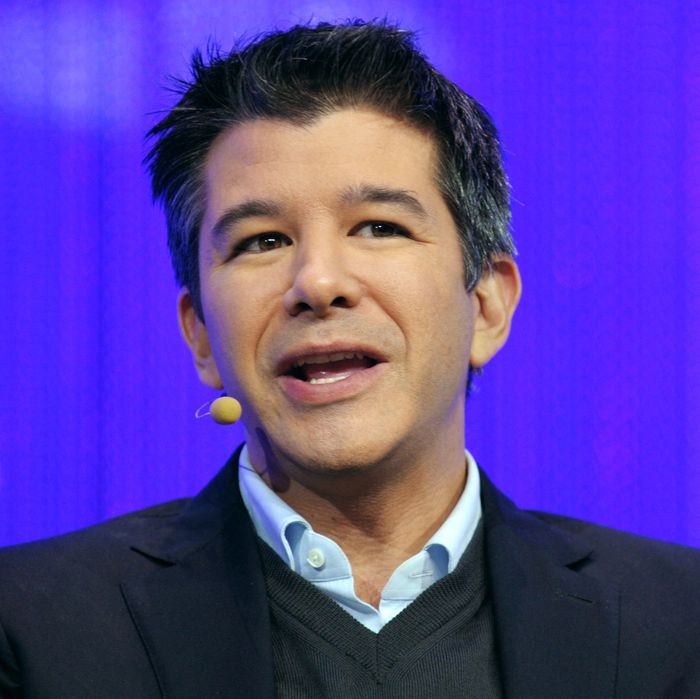 Travis Kalanick, Co-Founder and CEO of Uber, on December 10, 2013.
Photo: Eric Piermont/AFP/Getty Images
Apparently, "Uber anxiety" applies more to passengers than investors, because Uber just raised one of the biggest start-up funding rounds ever — a whopping $1.2 billion in a round that values the company at $18.2 billion, according to The Wall Street Journal. The only bigger private valuation in tech venture capital history? Facebook, which raised $500 million at a $50 billion valuation in 2011.
I've written about Uber's logistics-for-everything strategy, which the company hopes will allow it to become bigger than Facebook and a rival to companies like Amazon. But according to CEO Travis Kalanick, none of that figured in to the company's massive valuation:
The business as it is, the current growth, that is what was funded. The logistics, or moving things as well as people, is icing on the cake.

While a $18 billion valuation seems high for any four-year-old tech start-up, Uber likely has the numbers to back it up. So why is it raising so much money? To fuel its expansion into new countries, Kalanick told Bloomberg Businessweek, along with allowing for thinner margins in a price-cutting war with competitors like Lyft. Uber's ultimate goal is to make its cars cheaper than regular taxis by such a large margin that it will effectively replace the entire car-for-hire industry, and even lead car owners to ditch their vehicles altogether. (In the Bay Area, this is already happening — I know at least one person who sold his car after calculating that it would be cheaper to take UberX everywhere.)
Uber's new valuation is certainly an enormous amount of money. But it's not as shocking as, say, Snapchat's $3 billion, because Uber actually generates revenue — lots and lots of it. It proves that in the tech industry, where eyeballs and downloads are often thought to be the most sought-after currency, a company that brings in cold, hard cash still wins.