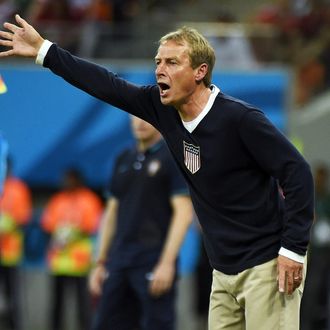 U.S. coach Jurgen Klinsmann.
Photo: Odd Andersen/AFP/Getty Images
On Sunday, the United States was just seconds away from qualifying for the knockout round of the World Cup, but a late Portugal goal stunned American fans and meant that the team's fate wouldn't be decided until their group's final day of games. That day is today: The U.S. plays soccer powerhouse Germany at noon in their third and final game of the round-robin group stage, while Portugal and Ghana will play at the same time, in a game that could determine if the Americans advance. Here's everything you'll need to know before taking your two-hour "lunch break" this afternoon.
How can the Americans advance?
If the U.S. pulls off the upset and beats Germany (a long shot according to stat-heads and oddsmakers) or even just ties them, it moves on to the Round of 16, regardless of what happens in the Portugal-Ghana game. The Americans also advance if Portugal and Ghana play to a draw, no matter what happens in the U.S.-Germany game. It gets more complicated for the U.S. if it loses to Germany and either Portugal or Ghana win. The U.S. can still advance to the knockout round under those circumstances, but it'll need things to break the right way. In such a scenario, Germany would advance, by virtue of having the most points in the group. The U.S., then, would be tied with whichever team wins the other game. Goal differential is the first tiebreaker, and goals for is next. As of this morning, the U.S. is a +1 in goal differential, Ghana is a -1, and Portugal is a -4. Here's a chart with all the possible outcomes:
Who should I pay attention to Germany?
Against Ghana last weekend, Miroslav Klose tied Ronaldo for the all-time World Cup goal record, with the 15th of his career. Klose, 36, is playing in his fourth World Cup, and has a 70 international goals in 133 career matches. Thomas Müller, 24, scored a hat trick in Germany's rout of Portugal, but needed five stitches next to his right eye after a collision in Sunday's game against Ghana. Mario Götze, who opened the scoring for this disciplined German team against Ghana, was chosen as Man of the Match in that game.
Won't the U.S. just play for a draw?
No! Even though a draw would advance both the Americans and Germans to the knockout round, U.S. coach Jürgen Klinsmann has said his team will play to win and won't be playing for a tie. He said that no arrangement will be made with Germany to guarantee both teams move on. (That sort of thing wouldn't be unprecedented: In an infamous match back in 1982, West Germany and Austria quite obviously made no effort to score for much of the game, in order to guarantee a berth in the knockout round for both countries.)
So, does the U.S. really have a chance to win?
Sure, but it won't be easy. Even in the so-called "Group of Death," Germany was the team to beat, and they showed how dangerous they can be in their 4-0 rout of Portugal. They entered the World Cup second in FIFA's world rankings, and historically, have one of the most consistent national teams in the world. They haven't failed to advance out of the group stage since West Germany was allowed back in the World Cup in 1954, and have won the tournament three times. But the American team has impressed so far, beating Ghana in dramatic fashion and coming this close to beating Portugal, which entered the World Cup fourth in FIFA's rankings. The Americans are underdogs in today's game, but they did beat Germany in a friendly last year, albeit one on U.S. soil.
Doesn't the U.S. coach have ties to the German National Team?
Yes, lots. Klinsmann played in three World Cups, and was a member of the West Germany team that won the tournament in 1990. He's also a former coach of the German team, and led them to a third-place finish at the 2006 World Cup. (Klinsmann moved to the United States when his playing career ended, and has raised his family in California.) Meanwhile, German coach Joachim Löw is a former assistant of Klinsmann's on the national team. Announcers tomorrow are also likely to note that Klinsmann's roster has several German-American players: Five players on the U.S. National Team's roster have dual American-German citizenship.
What happens next if the U.S. advances?
The U.S. is in Group G, and the winner of that group will play the runner-up from Group H. The second-place finisher from Group G will play the winner of Group H. If the U.S. beats Germany, they'll top Group G. If they lose or draw, the best they can do is second place. Belgium is currently leading Group H with six points, followed by Algeria (three points), Russia (one point), and South Korea (one point). The final matches in Group G start at 4 p.m. Eastern today, so the order of finish in that group won't be determined until after the U.S. plays.