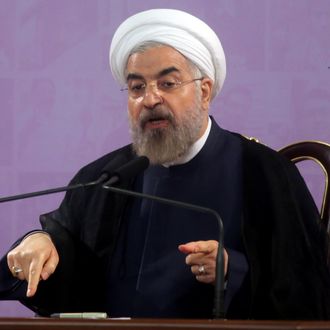 Rouhani at Saturday's press conference.
Photo: ATTA KENARE/AFP/Getty Images
After Iran's Revolutionary Guard was sent into Iraq to help the country battle the Islamic State of Iraq and Syria (ISIS), it appeared that the United States was in the strange position of being on the same side as Iran. Now things are getting even weirder: The United States is preparing to hold direct talks with Iran this week on how to counter the Sunni militant group, according to The Wall Street Journal. And, to top it all off, Republican Senator Lindsey Graham, who pushed a resolution authorizing war with Iran over their nuclear program last year, is all for working with our old foe. "Why did we deal with Stalin? Because he was not as bad as Hitler," Graham said on CNN's State of the Union. "The Iranians can provide some assets to make sure Baghdad doesn't fall."
Iran is publicly denying that it's already sent forces into Iraq, and its goals for its neighbor are very different than those of the United States. They both support Iraqi Prime Minister Nouri al-Maliki, but Iran wants to see a Shiite-dominated government in Iraq. The United States opposes the persecution of Sunnis by Maliki, who is a Shiite. A senior administration official told the New York Times that while President Obama is still considering Maliki's request for air strikes against the insurgents, he's decided that America won't take any military action unless Iraq agrees to a a plan for resolving the sectarian rifts in Iraq's government.
Conveniently, the United States is already holding talks with Iran in Vienna this week on an agreement to curb Iran's nuclear abilities. However, on Saturday Secretary of State John Kerry said, "Whatever dialogue may or may not be taking place [with Iran] would take place on the sideline or outside the mainstream of the nuclear talks" in Vienna, adding, "We don't want that linked and mixed."
On Saturday, Iranian President Hassan Rouhani said he has exchanged letters with President Obama, and his country is open to working with the U.S. in Iraq. "When the U.S. takes action, then one can think about cooperation," he said at a press conference. "Until today, no specific request for help has been demanded. But we are ready to help within international law." As is often the case, Rouhani sounded even more enthusiastic on Twitter. Hamid Aboutalebi, a top deputy to Rouhani, tweeted, "Iran and the U.S. are the only two countries with the power to end Iraq's crisis in a peaceful way."