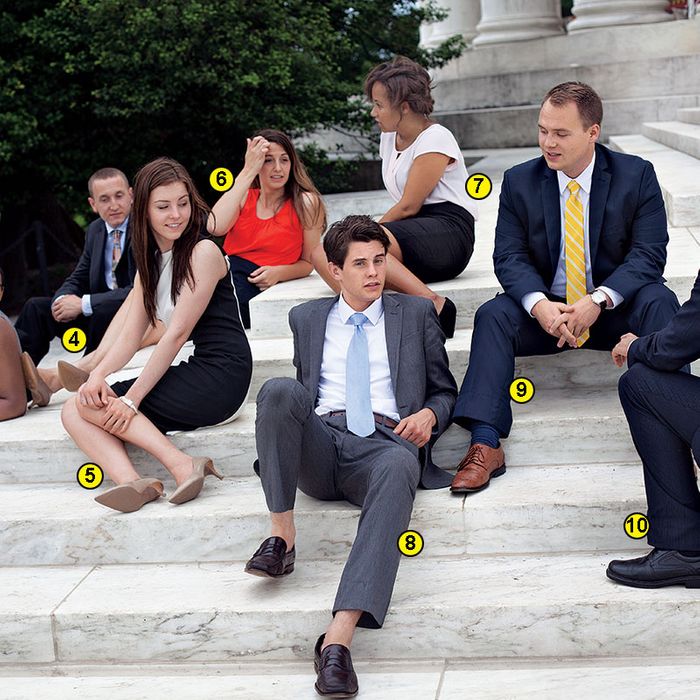 College students swarm the gridlocked capital for the summer, armed with hope for bipartisanship, personal talking points, and brand-new suits. Here, we talk to ten of them.

1. Wanda Zhan
Office of Democratic Representative Mike Honda
Fremont, California
"I was always the most informed on government in my group of friends, so everyone knew to come to me with questions on that. We're from Silicon Valley, a pretty educated part of the country, so if they don't know what's going on, I can only imagine the rest of the country."
2. Akinyi Ochieng
Justice Department Office of International Affairs
Washington, D.C.
"I went to Sidwell Friends School. My dad works at the World Bank, and my mom works for the FDA. I was always expected to engage in discussions with adults about politics."
3. Aaron Mukerjee
Democratic Governors Association
Saline, Michigan
"I'm actually staying with two Republicans, and I'm a Democrat. We talk about issues we agree on—and we agree on 90 percent of things."
4. Jon Buchleiter
American Enterprise Institute
Fort Collins, Colorado
"I love the monuments. I'll just come down to Washington or Jefferson and read while the sun goes down over the Tidal Basin. I haven't really
 picked up on the nightlife too much."
5. Joanne Dynak
Department of Health and Human Services
Chicago
"I had to make sure all my suits still fit. I had to get a new blazer or two. I do a lot of politics-related things in college, so I felt relatively well prepared."
6. Emily Wilson
Office of Republican Senator Jerry Moran
Overland Park, Kansas
"Some [of the adults in my office] are intimidating. But most of them started as Hill interns at one point too."
7. Briana Burroughs
Republican Majority for Choice*
Virginia Beach
"I didn't learn much from sex ed. I learned how much pregnancy costs, and abstinence. Empowering people to know about the risks of sexual activity, and the solutions, is a huge part of fiscal responsibility."
8. Max McGee
The Washington Institute for Near East Policy
Cedar Rapids, Iowa
"I work long hours. I also work a second job at District Commons as a host. But I love walking through neighborhoods like Logan Circle and U Street in the afternoon, in the summer specifically. When everyone's getting off work, there's a different vibe."
9. MacLane Taggart
United States Hispanic Chamber of Commerce
East Millcreek, Utah
"I'm gonna be writing a policy paper on what the government should do with Fannie Mae and Freddie Mac. I'm still trying to figure it out. It's a complicated issue."
10. Derek Soled
Senate HELP Committee Health Policy Office
Randolph, New Jersey
"Working on the Affordable Care Act is really enjoyable. It sort of puts all of us in the heat. Yes, it is controversial, but it is the law at this point, and it is being implemented full force. This is what we have to work with; let's make it better. It's not a question at this point, especially not to the interns."
*This article appears in the June 16, 2014 issue of New York Magazine.
* This article has been corrected to show that Briana Burroughs works for Republican Majority for Choice, not Republicans for Choice.