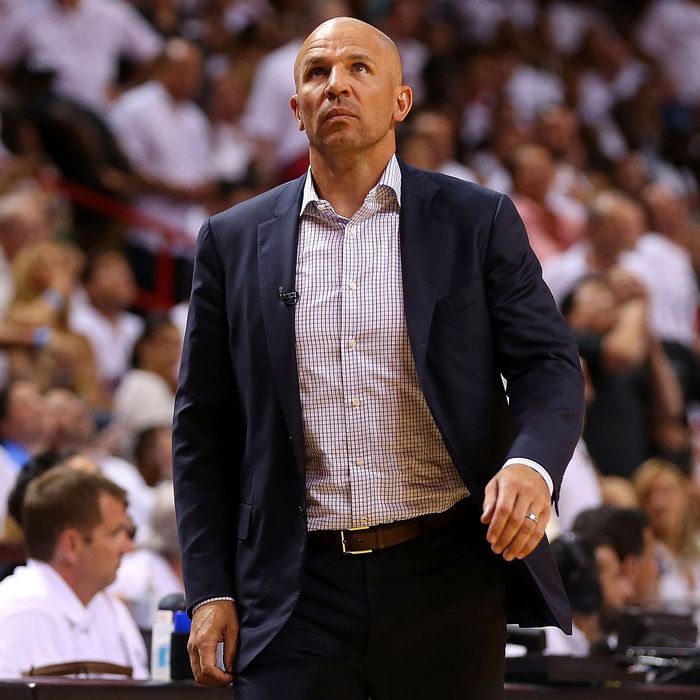 Jason Kidd.
Photo: Mike Ehrmann/Getty Images
After a failed power grab by Jason Kidd that played out on the back pages of the local tabloids, the Nets have traded Kidd's coaching rights to the Milwaukee Bucks for two second round draft picks — one in 2015 and another in 2019. Trading a coach isn't an unprecedented move, but it's an unusual one — and the details of Kidd's departure from Brooklyn are particularly stunning. So how and why did Kidd's tenure as Nets coach come to such an abrupt end?
How did this all begin?
According to Adrian Wojnarowski, Kidd was livid that Derek Fisher and Steve Kerr were given bigger contracts than he'd had as a rookie head coach. But Grantland's Zach Lowe writes that the unrest in Brooklyn goes back even farther: In December and January, Kidd approached Nets ownership to complain about longtime GM Billy King's job performance and his vision for the future. At that time, Kidd suggested the team hire someone from outside the organization for a front-office job above. According to Lowe, those initial talks went nowhere.
So that's when the power grab happened?
Yes, but the seeds had already been planted. The Bucks had sought permission to speak to Kidd earlier in June, via Lowe. And when the Nets were slow to respond, Kidd began to maneuver to redefine his job. He approached Nets ownership seeking an expanded role in which he would have remained head coach and also taken over basketball operations, which would have placed him above longtime general manager Billy King in the organizational hierarchy. (He did not want to be general manager himself, according to the New York Post, which broke the story.) King would have stayed on, since he's owed a lot of money still, but according to Lowe, Kidd planned to eventually fire most (if not all) of the Nets front office. It was a bold attempt at a power grab for Kidd, who had a sometimes-rocky first season as head coach, during which he eventually led the Nets to the second round of the playoffs.
Was Nets ownership onboard with Kidd's proposal for a new role?
Nope. They wouldn't give him that kind of power, which is rare for any coach to have, let alone one with so little experience. In fact, the Nets are reportedly looking to cut costs: According to documents obtained by Grantland, the basketball side of the Nets' business lost $144 million last season. (Those numbers are for basketball activities only, meaning they don't include anything the team's owners get from their stake in Barclays Center itself.)
So how did the Bucks get involved?
Mark Lasry, the Bucks' new co-owner, is close with Kidd — he's a former Nets minority owner and once served as Kidd's financial advisor — so it would appear that Kidd told Lasry about his situation. Once Kidd was denied the chance to take on an expanded role, Milwaukee reached out to the Nets and requested permission to speak to Kidd, who still had three years left on his Nets coaching contract. The Nets agreed, and Milwaukee co-owners Lasry and Wes Edens met with Kidd on Friday in New York. According to CBS's Ken Berger, neither the Bucks coach nor their GM was told about the plan to interview Kidd.
So is Kidd taking both their jobs?
No, actually. Presumably, Kidd will become the new Bucks coach, though the status of current coach Larry Drew is unclear. But the Bucks reportedly haven't discussed anything beyond the coaching job with Kidd; in other words, they haven't talked about him taking on any executive duties as well. Bucks GM John Hammon appears to be safe; he actually handled the negotiations with King. ESPN reports that high-ranking Bucks executives David Morway and Dave Babcock are also safe if Kidd becomes the team's coach. That said, the team could still create a front-office position for Kidd, but for now, it's still unclear whether he'll have control over basketball operations beyond his duties as coach.
What happens next for the Nets?
They'll need to hire a new coach. Among the names that have been mentioned already: veteran coaches Lionel Hollins and George Karl, former CSKA Moscow coach Ettore Messina, and Mark Jackson, the former coach of the Warriors and a Brooklyn native.