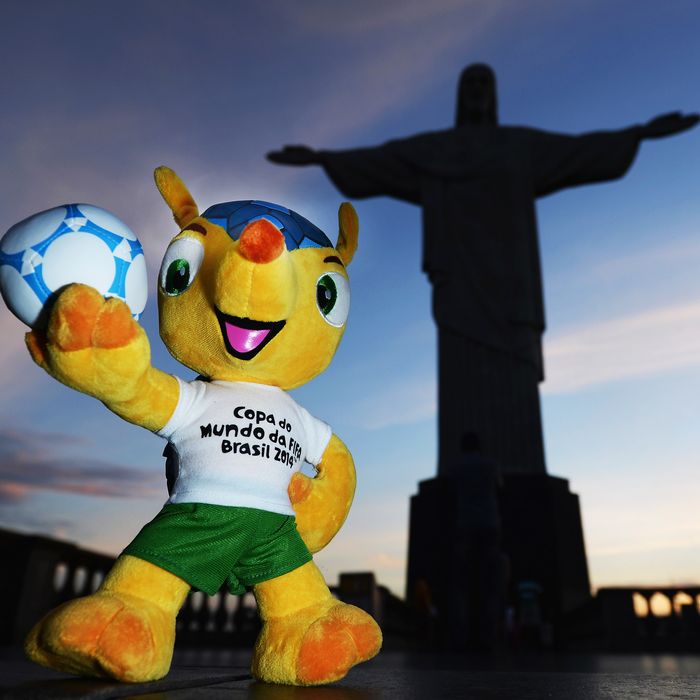 Photo: Stuart Franklin - FIFA/Getty Images
For the past few months, a small army of writers and analysts have churned out enough World Cup 2014 primers to fill São Paulo's still unfinished Itaquerão Stadium, where the tournament will kick off this afternoon amid exposed wires and shrink-wrapped furniture. Rather than adding to din, we've combed through the slew of previews and picked out the most useful information. Here's everything you need to know about the World Cup from the best "everything you need to know about the World Cup" articles. 
Is Rio Ready?
"Arena de Sao Paulo will host Brazil vs Croatia World Cup opener without a test taking place that would meet UK legislation" —Daily Mail
"The new international media center in Curitiba is unfinished, so journalists will be housed in parking-lot tents, which, to be sure, will aptly reflect the state of journalism these days." —Norman Chad, Washington Post
"In the run-up to Thursday's opening match, it appeared that Brazil's government might, in fact, be prepping for a revolution. Gun-toting men were all over Rio — apparently more than 150,000 members of the police and armed forces had been deployed for the World Cup … " —Slate
Why Are so Many Brazilians So Mad?
"The average Brazilian feels as if he's being squeezed — whether that's through the increased bus fares being used to raise funds or by eminent domain, which has been used to clear neighborhoods for stadiums and roads." – Times reporter George Vescey told Men's Journal.
"Spending so far is estimated at $11.5bn — a sum bigger than the GDP of a quarter of the world's countries. Most of that money has been poured into concrete and steel – new and upgraded stadiums and transport infrastructure. The government promised no public money would be used to build arenas, but close to $3bn ended up coming from the taxpayer's purse after delays and overspending prompted government intervention." —The Guardian
"From the beginning, critics said there was no need for a $229 million, 46,000-seat stadium in a city that doesn't have a club in Brazil's top three divisions. The deaths of three construction workers didn't help matters either. But no one expected that things might still be so bleak days before go time." —Deadspin
Who Are the Favorites?
"As far as host-nation favorites go, it doesn't get much clearer than Brazil being the No. 1 choice to win the 2014 World Cup … This should be where the host nation picks up its sixth World Cup victory."  —Sports Illustrated
"Looking for a World Cup favorite? All you really need to know is this: The World Cup gets underway Thursday in Sao Paulo, and it's really hard to beat Brazil in Brazil." —Nate Silver
"My model predicts a greater than 50 percent chance that either Brazil or Spain wins the World Cup. No one else, including other favorites Argentina and Germany, has a chance over one in ten of being crowned champions." —Michael Caley, SB Nation
"Brazil is the clear-cut favorite to win a sixth World Cup title, confirming on home turf its reputation as a soccer superpower, according to a global survey of over 120 football-loving market analysts polled by Reuters." —Reuters
Does the U.S. Have a Chance?
"No, the United States cannot win the World Cup this year. But this World Cup is not about right now. In some ways, it never was. This World Cup is about redefining the American soccer dream." —Bleacher Report
"U.S. manager Jürgen Klinsmann has already said his team won't be winning the World Cup, and it doesn't seem like a ploy of reverse psychology. With top teams such as Portugal and Germany in its group, even a win in the first match against Ghana won't provide too much hope for advancing out of the first round." —Sports Illustrated
How Pathetic Are the English This Year?
"Futility. Decline. Shattered empire … To me, England, they're a little dog that thinks they're a big dog." —Roger Bennett of Grantland's "Men in Blazers"
Who's the Most Exciting Player to Watch?
"Neymar's skills are superb, and he owns a myriad of fakes, feints, and dribbles that can make a defender look foolish. He's a throwback to the classic "Brazilian style of football", which is built on creativity, speed, finesse and dribbling skills rather than the bruising style that some Europeans and Americans employ." —Vox
"[Holland's] Arjen Robben: Left-footed, his one move is to zig infield from the right, zig again, and zig one more time; he never zags. Then either he shoots at the far post (never the near) or, if breathed on by a defender, falls down in great pain. Somehow this appalling modus operandi makes him one of the most terrifyingly effective attackers in world football … " —The New Republic
"His low centre of gravity and almost impossibly quick feet means taking the ball off the diminutive genius is a task beyond most defenders; one must attack [Argentina's Lionel] Messi with three men at least, to have even a hope of taking possession. … Those skills, allied with a magical left foot which he controls like a puppet on a string, have established the 26-year-old as the best player on the planet." —The Guardian
Who Are the Hottest Players?
"Olivier Giroud: With his frequently photographed, side-swept hairdo and baby-blue eyes, this Frenchman likes to push the boundaries of the traditionally macho sport and most recently posed shirtless on the cover of French gay magazine Tetu." —Vogue
"Cristiano Ronaldo: The super-sexy forward for Spain's Real Madrid certainly isn't shy about showing off his amazing physique." —E! Online
"Alexis Sánchez: To whomever is playing against Chile at the World Cup: Good luck staying focused after seeing this smile!" —Elle
"Graham Zusi: While other players try to match their headbands to their hair color, Zusi likes to coordinate with team colors." —The Cut
Who Will Be Dressed Best on the Pitch?
"France's home and away kits for the World Cup are, in a word, sublime. Classic styling inspired by quintessentially French elements make for a pair of beautiful kits that look sensational both on and off the pitch." —SB Nation
"Adidas does a top-notch job of balancing tradition with innovation. The red home numbers reflect the look you expect from Spain, while the away versions offer something else entirely: A black base with neon green trim." —Mashable
"Ghana. Style: 9. The tribal bit round the collar and sleeves of the home kit is just perfection, and the patterned red number is special too. Originality: 9. The two kits both make a statement, but are completely different from one another. Just great." —BuzzFeed
Which WAGS [Wives and Girlfriends] Should We Look Out For?
"Leading the pack are platinum selling songstress, Shakira — who is Colombia's answer to Beyonce — and supermodel Irina Shayk. They've forged their own careers and amassed such personal fortunes that they will never need to be financially reliable on their rich footballer boyfriends." —Daily Mail
"Enigmatic Italian forward Mario Balotelli is always good for drama, so Fanny Neguesha is perfect for him. With her racy Instagram shots and wild ways, she might be the one to tame Super Mario's heart. The couple was engaged to marry this week." – New York Post
"Miss Chile - Laia Grassi: Girlfriend of Chilean winger Alexis Sanchez, 25, the Spanish beauty is an art director, very talented graphic and interior designer and owner of the bluest eyes we've ever seen." – New Zealand's Stuff
Who's Got the Best National Anthem?
"Brazil have a wonderfully jaunty national anthem that climbs up and down the scales with the agility of a young Jairzinho." —Billy Bragg, The Guardian 
"Belgium: All in all, I feel like I should be windswept and on my way to overcoming something emotionally difficult when I'm listening to this anthem. It sort of has a "be the bigger person" vibe. It feels sonically stoic, proud and dignified." —Kate Nash, The Guardian
"Italy: A stone-cold classic of an anthem, a tune that just gets better and better the further it goes. Listening to this you can imagine just how 'mercenary swords' become 'feeble reeds' in the face of a unified Italian nation." —Bwin Betting