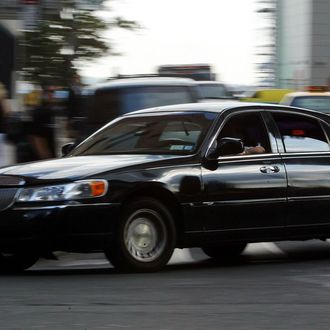 Photo: Chris Hondros/Getty Images
A livery cab–driving man named Wayne Walker confirmed many a tourist's fear on Friday when he attempted to cheat a 75-year-old man visiting New York City from Moscow, then assaulted him when he didn't go along with the scam. The New York Post reports that Walker picked up Vladimir Zakharov at JFK Airport and gave him a very short ride to Terminal 2. Though it only took them around a minute to reach their destination, Walker presented Zakharov with a $149 bill — a rate of around $2 per foot, according to the Post. When Zakharov, who speaks little English, wisely refused to pay, Walker locked the car's doors and hit the older man in the face. 
The police said that the driver was arrested and charged with unlawful imprisonment, assault, and unlawful solicitation of ground transport. Meanwhile, Taxi and Limousine Commission spokesman Allan Fromberg pointed out that drivers licensed by the organization aren't supposed to pick up street hails, as Walker did. But it turns out that Walker isn't even a TLC-licensed driver, which means he isn't so much a terrible cabbie as he is a standard-issue criminal.