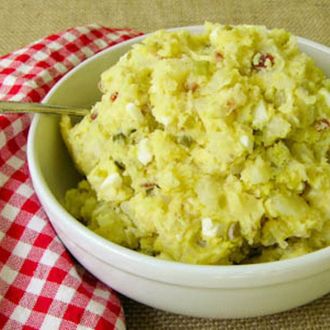 Give me money.
Photo: Zack Danger Brown/Kickstarter
A week ago, Zack Danger Brown was an unknown 31-year-old Ohio man who enjoyed eating potato salad, though he'd never made it. Today he was on Good Morning America talking about the viral Kickstarter campaign he launched to fund his first batch of starchy, mayo-drenched mush. As of this posting, Brown's campaign has raised more than $35,500 from nearly 3,400 people. Despite the incredible support, there's nothing special about Brown or his dumb Kickstarter campaign. Every day, dozens, maybe hundreds of insipid Kickstarter projects are launched. For whatever reason, people found Brown's.
With his project racking up enough funding to make his salad in a platinum bowl, we turn to the hordes of other worthless projects whose creators are eagerly awaiting your ironic donations. Sure, there are a bunch of copycat items popping up, including "Peanut Butter & Jelly," "Baked Beans," and "Grilled Cheese." But all the dregs of Kickstarter offer the same reward: the opportunity to have a stranger flush your money down the toilet so you don't have to.
French Toast Pancake Waffle (ToPaWa)
The idea: to create the turducken of breakfast fare, so that one never has to choose between these three classics
The goal: $15
The pitch: "I'm raising money to buy the necessary ingredients for testing with the goal of arriving at the perfect ToPaWa recipe. "
PAUL — The Sexiest Smartphone Charger on the Planet
The idea: to create and market a charger that is an armless male mannequin with a retractable butt plug
The goal: $8,000
The pitch: "Technology should do more than just represent your sexuality — It should LITERALLY BE SEXY"
Perpetual Energy
The idea: to create perpetual energy
The goal: $30,000
The pitch: "With Global Warming and People getting sick from the bad air its time we made something happen."
Popcorn Strainer Marketing Fund
The idea: to sell the popcorn strainer, a product that separates unpopped kernels of popcorn from the good stuff
The goal: $5,000
The pitch: "Works For EVERY Size Bowl!!!"
No Raisins Trailmix
The idea: to produce raisin-free trail mix
The goal: $250
The pitch: "Now I don't know about you, but I loathe raisins. I hate that that are in every version of trailmix."
StackUp, the easy to use stand for preformed potato chips.
The idea: to produce the StackUp, a plastic stand that holds Pringles
The goal: $93,800
The pitch: "We like our pre-formed potato chips in a can. We don't just eat them, we really enjoy them. But just like everyone that enjoys them, we have a problem. How can we present them?"
YouFaceInMyHouse
The idea: to create a collage of contributor photos on the blank basement walls in the new home the creator is hoping to purchase
The goal: $200,000
The pitch: "I invite you to be a part of history, and be a part of my new family room."
Pug-let: The First Ever All-Pug Production of Hamlet
The idea: to stage Shakespeare's classic tragedy with pug actors
The goal: $5,000
The pitch: "This will be the first-ever (that I'm aware of) all-pug production of 'Hamlet.' The actors will be pugs–even Gertrude."
huntagram
The idea: Instagram for hunters
The goal: $2,500
The pitch: "It can be for any animal deer, elk, fish, bear, turkey any animal that is a legal hunt. Hunter love nothing more than to tell there hunting stores besides showing off there kids stories."