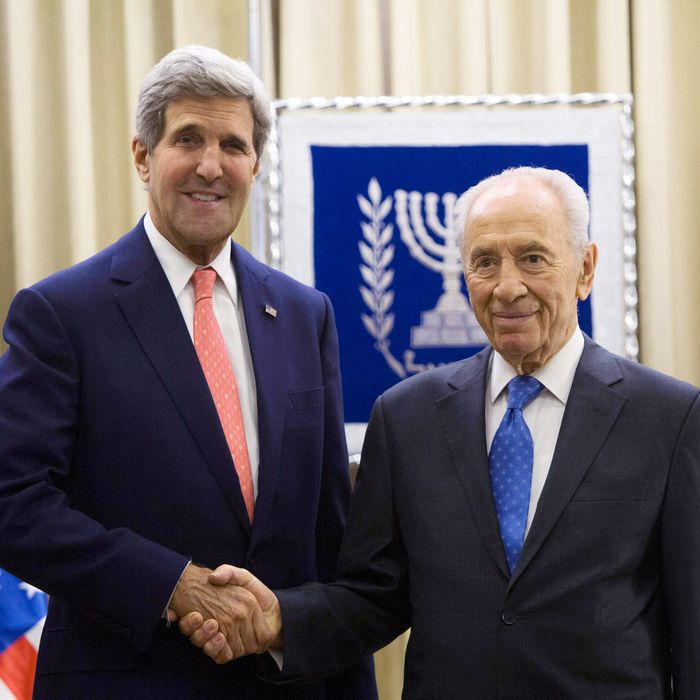 Photo: Yonatan Sindel-Pool/Getty Images
John Kerry flouted federal aviation guidelines when he flew into Israel on Wednesday. But it wasn't just a cordial stop — the goal was to hammer out a solution to the bloodshed between Israel and Gaza.
The Israeli-Palestinian conflict has been a rough spot in Kerry's international agenda, in large part because both sides are fractured into different special-interest groups. Now regional politics are placing an additional barrier ahead of a solution. Egypt, Saudi Arabia, and the United Arab Emirates are clashing with Qatar and Turkey, who are allies of Hamas, over the role the terrorist organization will have in a post-ceasefire government. While a long-term solution is still nowhere in sight, Kerry's unannounced visit to Israel was meant to jump-start at least a temporary compromise by focusing on three key factors:
1. Reaffirm an old alliance. First on his to-do list was reassuring Israel of America's support, as the Israelis were none too pleased when the U.S. grounded all flights to Tel Aviv, triggering airlines around the world to follow suit. Kerry's visit reassures Jerusalem that the U.S. is still invested in the ongoing situation, even if Bloomberg did upstage him by getting there first. The relationship, though, seems to be headed in the direction of tough love.
2. Determine what's currently on the table for Israel. Peace talks last fall fell through after right-wing politicians pressured Prime Minister Benjamin Netanyahu into agreeing to expanded settlements in the West Bank in exchange for meeting Palestinian demands. Kerry signed off on the deal and regretted it right away. Now, fresh off talks with Egyptian leaders, he had three high-pressure meetings with U.N. Secretary General Ban Ki Moon, outgoing president Shimon Peres, and Netanyahu himself.
Netanyahu's recent statements seem to close off the possibility of a two-state solution for the Israeli-Palestinian conflict, since he has said that Israel will not cede control around the River Jordan. Ironically, this means no statehood for the West Bank, controlled by the more moderate Fatah party — but it also makes Kerry's job more difficult. If Israel isn't willing to give anything up, there's a limit to how far the negotiations can go.
3. Make a public show of U.S. support for Palestinian president Mahmoud Abbas. Kerry's visit no doubt also sought to build up a post-ceasefire Palestinian leadership. His visit with Abbas, sandwiched between face time with Peres and Netanyahu, reinforces him as the legitimate Palestinian leader. U.S. Ambassador Dan Shapiro has indicated that post-ceasefire, Fatah is the U.S.'s pick to take over control of Gaza. However, it's not clear that Abbas would even want to do so — his Fatah party doesn't have the best history in Gaza, and Kerry no doubt tried to push the subject today. In any case, Abbas's opinion will be crucial in whatever ceasefire agreements are brokered, because one of the main bargaining chips concerns the role Hamas will play in the future governance of Gaza.
But everyone may be forced to settle on at least a temporary peace deal sooner rather than later. U.N. High Commissioner on Human Rights Navi Pillay said Wednesday that Israel's actions in Gaza may violate international laws. Talking about strikes on hospitals and houses, Pillay said  "there seems to be a strong possibility that international humanitarian law has been violated, in a manner that could amount to war crimes."
The Israeli Knesset will hold a special session tomorrow to continue deliberations on a ceasefire, while Kerry is already back in Cairo. There, he'll resume meetings with Egyptian leadership about an internationally backed solution.