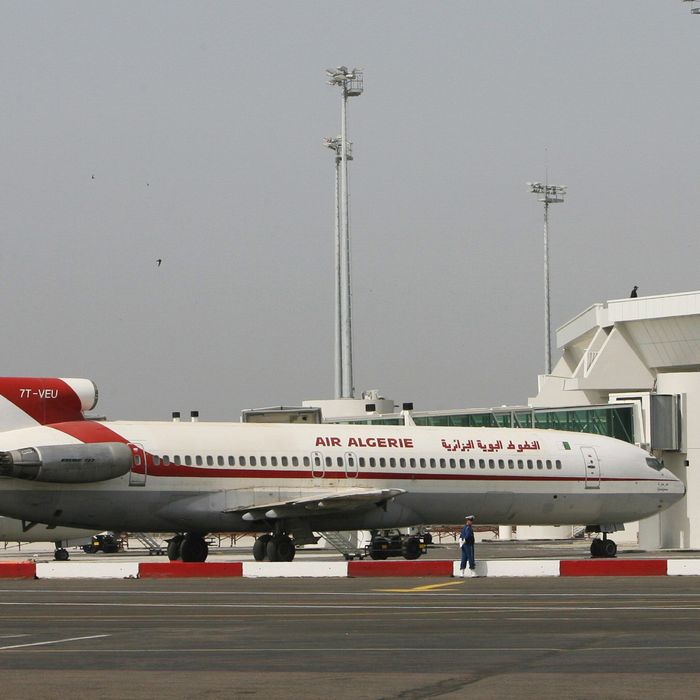 Photo: Fayez Nureldine/AFP/Getty Images
In the third major aviation disaster in a week, a commercial flight from Burkina Faso to Algiers went missing last night as it flew over Mali just after 1 a.m. local time, Reuters reports. Air Algerie Flight 5017 was carrying 110 passengers and six crew members. "Air navigation services have lost contact with an Air Algerie plane Thursday flying from Ouagadougou to Algiers, 50 minutes after take-off," said Swiftair, the Spanish company operating the flight, according to France 24. An "emergency plan" is in effect.
Update: "I can confirm that it has crashed," an Algerian official told Reuters, although details are still scarce. Nearly half of the passengers were French citizens.
"We do not know if the plane is Malian territory," said the head of the country's aviation agency. "Aviation authorities are mobilized in all the countries concerned — Burkina Faso, Mali, Niger, Algeria and even Spain." But the threat of terror looms:
An Algerian official said the plane's last contact with aviation authorities was at 0155 GMT when it was flying over the northern Malian city of Gao.

Gao is the stronghold of the Tuareg separatist group, the MNLA. France has dispatched three military reconnaissance planes, an official from the West African nation of Niger told FRANCE 24.

In January 2013, France launched a military operation in northern Mali named Operation Serval after the region fell to a mix of Tuareg separatists and jihadist groups.
The incident comes amid international jitters surrounding the downing of Malaysia Airlines Flight 17 last week in Ukraine, which killed 298 people, and a TransAsia Airways crash in Taiwan yesterday, in which 47 people are feared dead.
Update, 11:30 a.m.: The plane is thought to have gone down in Mali, according to French officials. Harsh weather conditions may have been a factor, the New York Times reports:
Weather reports for the region indicated that there were thunderstorms and gusty winds overnight in the area of Africa that Flight 5017 would normally have crossed. Reuters quoted a diplomat in Bamako, Mali, as saying that the region experienced a strong sandstorm.
A report by CNN that the daughter of Cuban President Raul Castro was aboard the flight turned out to be untrue. She is "alive, happy, and working," reports teleSURtv.