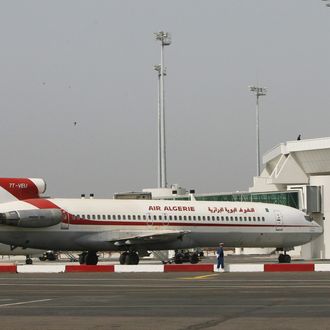 Photo: Fayez Nureldine/AFP/Getty Images
The Air Algerie flight that disappeared on its way from Burkina Faso to Algiers on Thursday has finally been found. After some conflicting statements, leaders in Burkina Faso confirmed that the wreckage has been located in neighboring Mali. There seem to be no survivors.
According to officials, the crash was caused by thunderstorms over the Sahara. Shepherds from a nearby town saw the airliner fall, and fighter jets and helicopters were dispatched to locate the missing plane.
"We think it was the weather — there were lots of storms, lots of lightning," said General Gilbert Diendéré of Burkina Faso. His men "found human remains and the wreckage of the plane totally burnt and scattered."
The plane's pilots reportedly asked to change route owing to heavy rains shortly before disappearing. But thunderstorms are common in the area at this time of year, and Thursday's storms were not particularly alarming, according to AccuWeather meteorologist Anthony Sagliani.
Perhaps for this reason, early reports on the disappearance raised the possibility of foul play. Mali, which has been a hotbed of insurgent activity in recent years, angles in just north of Burkina Faso. Flights to Algeria cross directly over the conflict-ridden nation. But Mali's rebels evidently lack weapons that can hit planes at cruising altitude, according to French officals. 
The flight carried 110 passengers and six crew members, many of them French nationals.