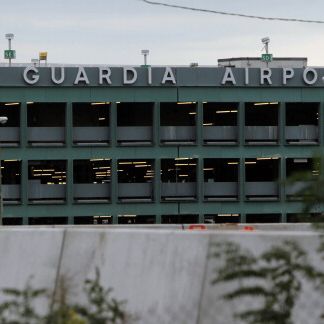 Monday's New York Post contains a report on a pointless experiment undertaken by an "airport advocacy group" called Global Gateway Alliance. Members of the group decided to race each other from their midtown office to La Guardia using seven different modes of transportation: a yellow cab, an Uber Lincoln town car, NYC Airporter (a private bus service that departs from Grand Central Station), three train and bus combos (the 7 with a transfer to the Q70; the LIRR with a transfer to the Q70; the 4 with a transfer to the M60), and a Citi Bike.
Which method was the fastest? No one will be surprised to learn that it was the cars. It took the yellow cab just 25 minutes to travel from 39th Street and Sixth Avenue to La Guardia. The Uber also made the trip in 25 minutes, though a "technical glitch" left the passenger waiting 23 minutes to be picked up. But, even with the delay, the app got the job done more quickly than any of the public transportation options, each of which took about an hour. (The $14 NYC Airporter took 44 minutes).
On the other hand, the trains and buses cost their riders less than $10 ($2.50 for the two subway-based options; $8.25 for the one that included the LIRR), while the chauffeured vehicles cost significantly more. Meanwhile, the Citi Bike rider supposedly also arrived at the airport in around 25 minutes (probably unencumbered by luggage), but La Guardia doesn't have a Citi Bike station, so it doesn't matter.
The lesson, as always: "There isn't an easy, hassle-free way to get to and from La Guardia," GGA chairman Joe Sitt told the Post. Also: You get what you pay for, unless the Uber is late.