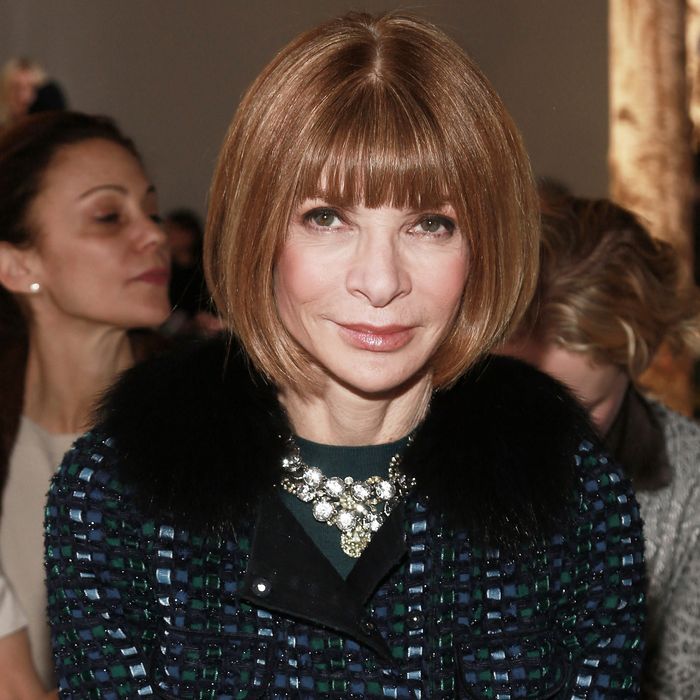 Queen of Condé.
Photo: Paul Zimmerman/Getty Images
When all of the veteran executives at Si Newhouse's megapublisher eventually end their runs, there's a safe bet to be made about who will still be standing. Anna Wintour, the already legendary Vogue editor and, as of last year, the company's creative director across all titles, is expanding her reach again: Thomas Wallace, the former Traveler editor and Condé's editorial director since 2005, is out, and Wintour, while not officially taking the title today, is very much in.
In what CEO Chuck Townsend referred to in a memo obtained by Capital New York as "strategic leadership changes we are making as part of a succession plan we started early this year," Wintour "will ensure that our content and culture remain at the forefront of our industry. [President Bob Sauerberg] and I will rely on her for her insights and guidance as we build the team that will lead us into the future."
Chief operating and financial officer John Bellando, a 15-year Condé veteran, is also leaving. Ex–Time Inc. exec David Geithner will replace him as CFO, while Sauberg's role will also expand.
But all eyes are rightfully on Anna, who as creative director, a role she described as "almost like being a one-person consulting firm," has already helped to revamp titles like Lucky, Glamour, Traveler, and Self. "Some at the company, however, believed Ms. Wintour had been intruding on Mr. Wallace's turf," reports Ad Age. 
All of which supports the idea that Wintour is absorbing responsibilities that used to fall to the chairman himself, now 86, stepping back from daily duty. "Si Newhouse leaves a void, inevitably," said Townsend upon promoting Wintour last year. "Anna, without even having to think twice about it, is the most qualified person to pick up that torch and carry it into the future."
"I would go to great distances to avoid losing Anna," he added, "particularly in the prime of her career." A steady increase in power seems to be doing the trick.