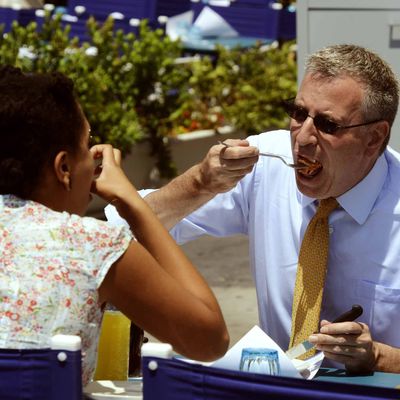 Naples Mayor Bill de Blasio.
Photo: Fotonews/Splash News/Corbis
You had to know this was coming.
The mayor, on family vacation in his motherland, enjoyed a pizza in Naples today, making a point by consuming it with utensils."I will continue to express my own culture in my own way and when I get a pizza like that, I'm going to eat with a knife and fork," he said defensively after he was caught using a fork and knife, the preferred method of Sarah Palin and Donald Trump, in Staten Island in January. He said he picked up the habit in his "ancestral homeland."
And yet, an actual Italian told ABC News, "I would say a real Neapolitan eats pizza with the hands," although he added, "utensils aren't frowned upon" like they are in the boroughs.
Chiara, at least, got a kick out of it, and the reception across Italy has been generally warm, The Wall Street Journal reports, even among pizza professionals:
Antonio Novizio, owner of Il Barbaro pizzeria in the Sant'Agata town center, has created a Bill de Blasio pizza. "Half of it is a pizza stuffed with pepper, ricotta cheese, salami and mozzarella, while the other half is plain and topped with mozzarella and tomatoes," explains Mr. Novizio, who said he wants to sell the concoction for €7.
Sounds messy.