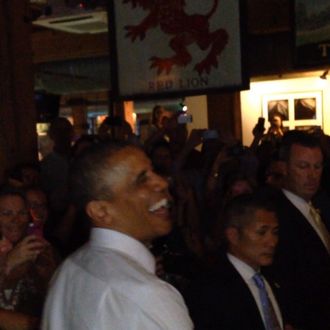 "You want a hit, man?" said the young marijuana enthusiast to the president of the United States, who could only chuckle. The exchange was recorded on a smartphone and promptly uploaded to social media. This is America in 2014, if you live in Colorado.
Barack Obama's visit last night to the legal-weed state also included some beer-drinking and pool-playing, plus a cameo from a guy wearing a trippy horse mask. But the real star of the evening was Instagram user manton89, whose account also features at least one photograph from a Phish concert. Denver, man.
Our freewheeling hero's caption game also happens to be on point: "Asked him if he wanted a hit of pot…he laughed! #legalizeit #iinhaled #mrGQ"
"He loved my shit! I got a shot of that smile! Made 'merica proud! #merica #obama #politics #golf #natgeo #mattgeo"
"Kickin' ass, and taking names! #obama #pool #shark #golfer #matgeo #natgeo"
And the man himself, barefoot, because of course:
Choom Gang forever.