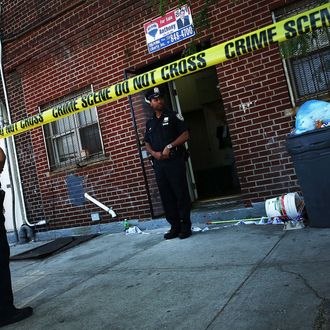 Photo: Spencer Platt/Getty Images
Severed body parts kept turning up on Long Island this month, and while police were reportedly investigating a connection to the Gilgo Beach serial killer, they now say they all belonged to a Brooklyn mother of four who was killed by her neighbor in a dispute over the rent. Leah Cuevas, 42, was arrested on Wednesday and charged with second-degree murder in the death of Chinelle Latoya Thompson Browne, a 28-year-old Guyanese immigrant. Newsday reports that it's unclear if Cuevas actually owned their Brownsville apartment building, but she was collecting rent and the two often fought about the building's lack of hot water and frequent power outages. Neighbors say that during a confrontation on July 6, they heard Browne shout, "No Lee! No Lee! What you doing? Oh no! Oh no! … I'm sorry, I'm sorry," then heard blood-curdling screams.
During Cuevas's arraignment in Suffolk County District Court on Thursday, prosecutors said she stabbed Browne repeatedly in the throat and chest. Her torso was found in a parking lot near the Fire Island ferry terminal in Bay Shore on July 9, and her severed legs were located nearby. Browne's arms were found days later in separate yards in Hempstead, which is about 25 miles west of Bay Shore. On July 17, her head was found in another yard in Hempstead.
Police searched the Brooklyn apartment building on July 10 and found Browne's blood in Cuevas's apartment and a hallway nearby. Cuevas pleaded not guilty on Thursday and was denied bail, as the judge said she was "charged with the worst conduct that humans can be capable of."
The victim's husband, Dale Browne, traveled to New York from Guyana when he heard she was missing. He said she was working in a Manhattan department store, and he planned to move to New York with their children when his paperwork was completed. "This … is a story of persons wanting better for their family, which is the human story," Dale Browne told reporters. "We resolved together that we would make this sacrifice, as hard as it was to do this." He added, "What hurt the most is when the prosecutor described the words that she screamed out. I can hear those words, you know? Pretty animalistic. Just a beast that did this."