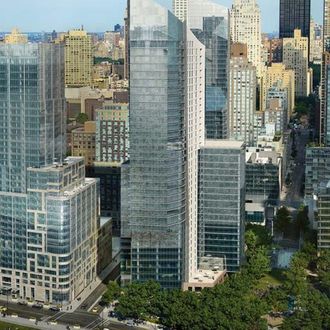 Photo: One Riverside Park
New York City moved just a little closer to all-out class warfare over the weekend, when the Department of Housing Preservation and Development approved a plan for an Upper West Side condo building with a separate door for the poorer people who are being allowed to live there. Extell Development, the company building the 33-story luxury complex at 40 Riverside Drive, proposed the controversial arrangement last year as part of its application for the Inclusionary Housing Program, which gives developers tax credits and other perks in exchange for creating some affordable units alongside their less affordable ones.
When it's completed, 40 Riverside will have 219 expensive, river-facing condos to sell to people who are in a position to buy them and 55 street-facing places to rent to sad sacks who earn 60 percent or less than the median income. "Because Extell considers the affordable segment to be legally separate from the rest of the building, it says it is required to have different entrances," Think Progress explains. Plus, it will spare all the residents from the terrible awkwardness of regularly encountering people whose lifestyles differ from theirs, or something.
Perhaps unsurprisingly, there are already a number of "mixed-income" buildings with so-called "poor doors" throughout New York City, though there might not be many more in the future. The New York Post reports that, following the outcry over 40 Riverside, "Manhattan Borough President Gale Brewer vowed to reject future developments with separate entrances." Meanwhile, renters of these affordable apartments can make their second-class status feel a little more fun by pretending that they're living in an episode of Downton Abbey.