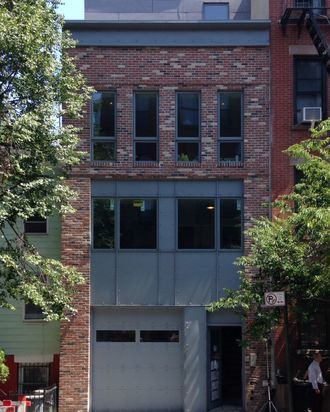 Once upon a time, in a real estate market far, far away — okay, 2009 — there lived some developers who, looking to goose sales, offered buyers free cars. A Harlem building gave out free Smart cars to those who ponied up an extra $65,000 for a deeded parking spot. For a week in July that same year, a Prospect Heights project tossed in a free Prius to those paying full price. A month later, One Brooklyn Bridge Park in Brooklyn Heights served up free Audi A4s.
These days, not any old vehicle will do, even an Audi. So a Brooklyn developer is upping the ante for his upcoming Park Slope project with a Tesla.
Eitan Baron, president of Greenstone, says whoever buys the triplex at the ecofriendly 709 Sackett Street will have a gray Tesla Model S sedan with the top-model 85 kWh battery — price tag: $79,900, plus an additional $2,500 for the stereo system and $2,500 glass roof, plus $3,050 for the technology package — parked in its garage, which will, naturally, be equipped with a Tesla charging station. (No need to wait five months for it; the order's already in.)
Baron says he "fought to keep the garage" in his project's specs — the Buildings Department almost didn't let him keep it — because parking in the neighborhood's tough. It's also an homage of sorts to the building's history, since it used to be a motorcycle repair shop. Plus, Baron says he noticed comments on previous stories calling out the building on having a garage when it was supposed to be an environmentally conscious development built with energy-efficient and sustainably sourced materials — a sample critique on Curbed: "Nothing says eco-friendly and urban like a parking garage" — and wanted to respond to the bone-picking by giving the apartment's future resident, who'll need to shell out $6 million for it, an ecofriendly driving option.
Baron says he's not building the cost of buying a Tesla into it; he would have priced the unit at $6 million with or without the car. (Still, everything priced north of $5 million in the area right now is a townhouse, according to Streeteasy.com, so the asking price is ambitious.) The triplex, which will hit the market sometime in the next two months via Town Residential's Lyon Porter, is certainly swanky, with 3,200 square feet, a private two-story courtyard, and a garden with an outdoor kitchen, plus, the garage.
He just thinks the car is the perfect match for the apartment. "It's like you dress up for the evening and put on a gold watch," he says. "[The Tesla] is just my passion. It needs our support." So does he own one himself? "No. I don't have the place to park it," he explains. "I don't have the luxury of having my own parking garage."