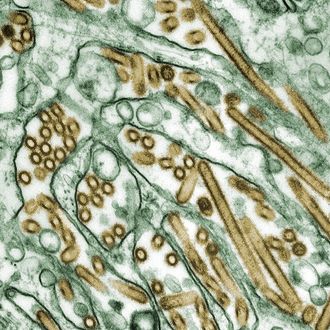 Photo: CDC/Courtesy of Cynthia Goldsmith
In addition to potentially exposing colleagues to H5N1 bird flu and anthrax, the U.S. Centers for Disease Control and Prevention had some trouble identifying their own safety violations. After CDC employees failed to note that the anthrax they shipped to other labs last month was live, the agency conducted an internal investigation and asked the U.S. Department of Agriculture's Animal and Plant Health Inspection Service (APHIS) to conduct a parallel probe. Congress revealed Monday that APHIS found a long list of violations that the CDC didn't catch, including transferring dangerous materials in Ziploc bags, storing anthrax in unlocked refrigerators in an unrestricted hallway, and misplacing anthrax containers. (Thankfully, APHIS investigators found them).
APHIS found that the CDC also made multiple mistakes after learning of the potential exposures. Researchers may have used expired bleach while attempting to decontaminate one lab, and another failed to post warning signs about possible anthrax exposure for days, allowing people to enter the room "without approval." It took the CDC's on-site clinic five days to examine some lab workers, and others were told that rather than visiting the clinic, they should just keep an eye out for signs of anthrax infection.
A House Energy and Commerce subcommittee has a hearing scheduled for Wednesday about the anthrax incident last month, and it sounds like they'll have plenty to talk about.