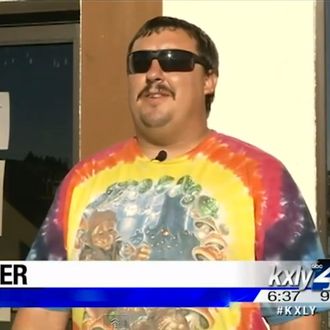 If there is a more chill man than Mike Boyer, we haven't heard of him. After waiting 19 hours to become the first person to buy legalized marijuana in Spokane, Washington, Boyer's local celeb status cost him his job as a security guard. He is most definitely not sweating it: "I'm still the captain! I'm still number one!" he told Vocativ. "I mean, a man can always can get a job. But a man can only be the first person to buy recreational cannabis in Spokane once."
"Yeah, it was kind of a buzzkill," he said. "But I wasn't going to let it ruin an awesome day." (An awesome day calls for an awesome T-shirt: "I've been rockin' it for about 12 years now," he explained.) He also came prepared. "I brought my surplus army sleeping bag and bedroll. I brought my Doritos and Mountain Dew. I was stylin'!" He really was.
And still is — post-firing, Boyer posted his résumé to Craigslist:
LOST MY JOB! still #1 tho!! (spokane)

I lost my job due to the news coverage of me being the FIRST PERSON TO BUY MARIJUANA LEGALLY IN SPOKANE! I regret nothing. But now im jobless and have decided to post my resume here. Thanks for reviewing it.
Frankly, he sounds ideal:
Hirable Traits;
Punctual. Own a dependable vehicle. Available for all shifts day or night.

Honest. Family man. No-criminal history. Clean driving record.

Intelligent. Safety orientated. Common sense. Quick learner. Good trainer. Computer skills.

Dependable. Strong work ethics. Self-motivator. Follows Instructions.
To which we can only add: Unbreakable spirit.