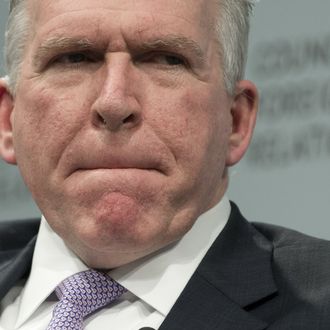 When reports first surfaced that the Central Intelligence Agency snooped on senators preparing a report about the agency's Bush-era interrogation techniques, CIA Director John Brennan said, "When the facts come out on this, I think a lot of people who are claiming that there has been this tremendous sort of spying and monitoring and hacking will be proved wrong."
Nope, wrong: McClatchy reports that Brennan apologized this week to Senators Dianne Feinstein and Saxby Chambliss of the Senate Intelligence Committee for what a CIA Inspector General's report called behavior "inconsistent with the common understanding reached between" the two sides.
Senators, naturally, are not pleased:
"The CIA inspector general has confirmed what senators have been saying all along: The CIA conducted an unauthorized search of Senate files, and attempted to have Senate staff prosecuted for doing their jobs," said Senator Ron Wyden, who also sits on the intelligence committee, according to the New York Times. "Director Brennan's claims to the contrary were simply not true."
The AP has more from the two sides, which still don't agree on what happened:
Senate aides familiar with the matter say the CIA used classified "hacking tools" and created a fake user account in an effort to retrieve documents the CIA believed the Senate staffers had improperly accessed.

A U.S. official familiar with the inspector general report disputed that hacking tools were used, and said that there was no malicious intent behind the CIA actions, but simply an effort to account for documents believed to have been improperly accessed.
But we're leaning toward maybe not trusting the CIA this time.