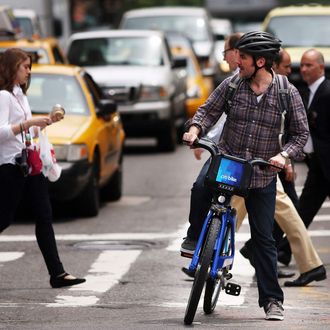 Photo: Spencer Platt/Getty Images
Popular but poor, the New York City bike-share program needs a savior. And although the deal is still tentative, it may have found one in REQX Ventures, an investment firm affiliated with Equinox, the fancy gym with the sleek, porny ads, and its real estate parent company, Related. Capital New York reports that REQX would buy a 51 percent stake in Alta Bicycle Share, the struggling Portland company behind Citi Bike and additional bike programs in cities like Boston, Chicago, and Toronto. Prices will probably go up.
"REQX would have the freedom to raise rates without city approval, though the contract might include some sort of percent-per-year cap on the size of those hikes," Capital reports. Mayor de Blasio has said he wanted to find a way to save Citi Bike without using any public money. Despite having more than 100,000 annual members, the system has been plagued by weather problems and software glitches, leaving it in need of millions, "quickly."
The Wall Street Journal reported REQX's interest in May, but the terms of the deal were still up in the air. They seem to be making progress, so ads that show some skin can't be too far off.