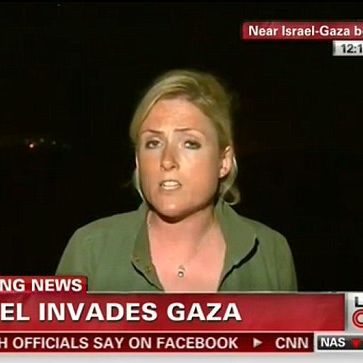 On Thursday night, CNN correspondent Diana Magnay did a report from a hill in southern Israel, where a group of Israelis had gathered to watch the beginning of the ground invasion of the Gaza Strip. As Magnay described the missiles flying through the sky behind her, the spectators could be heard cheering on the bombardment. "It is an astonishing, macabre and awful thing to watch this display of fire in the air," she told Wolf Blitzer before signing off.
Shortly afterwards, Magnay posted this tweet: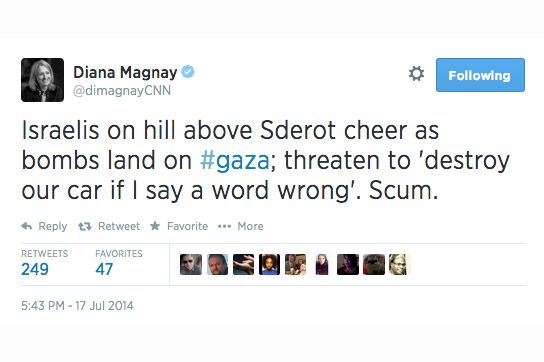 She quickly removed the message, but not before it had been favorited and retweeted by hundreds of people. Unsurprisingly, the tweet — along with its deletion — led observers to speculate as to whether Magnay was capable of reporting on Israel and Gaza "objectively," while others wondered if CNN had censored an employee's social media presence. By Friday, she had been reassigned to Moscow.
CNN told the Huffington Post's Michael Calderone that Magnay had not intended to call all Israelis "scum" — just the ones present for the segment, who were said to have "threatened and harassed" Magnay and her colleagues "before and during a liveshot." "Diana reacted angrily on Twitter," said a network spokesperson. "She deeply regrets the language used, which was aimed directly at those who had been targeting our crew. She certainly meant no offense to anyone beyond that group, and she and CNN apologize for any offense that may have been taken."
CNN's decision to remove Magnay from Gaza comes just after NBC — citing "security concerns" — pulled correspondent Ayman Mohyeldin from the area after his moving account of the deaths four Palestinian children in an Israeli air strike. While the circumstances surrounding Magnay and Mohyeldin's removals are slightly different, their situations have given people on both sides of the conflict more reason to feel that the media isn't being fair when it comes to reporting what's happening in Israel and Gaza.