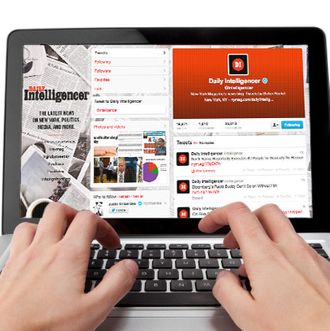 Welcome back to the New York Magazine Competition. On alternate Mondays, we lay out a challenge and offer a sample responses. Enter in the comments section, or on Twitter with the hashtag we've provided, and the editors will select a winner. Criteria are highly subjective, but heavily retweeted and favorited posts will have an advantage. The prize is a year's subscription to New York in print or a two-year subscription to the iPad edition (winner's choice). Full rules are here.
COMPETITION NO. 27: NEAR-MISS GREETING CARDS. Please compose a sentiment that Hallmark is unlikely to offer. For example:
ALL THE BEST AS YOU GO GLUTEN-FREE!
HAPPY BRITHDAY
SO YOU'RE A BRIDE YET AGAIN
HAPPY 100TH! I HOPE YOU CAN READ THIS.
Enter on Twitter with the hashtag #nearmissgreetingcards, or in the comments thread below, by August 6.
RESULTS OF COMPETITION No. 26: NEW YORK SUPERHEROES, in which you were asked to describe a comic-book hero you'd like to see in your day-to-day urban life.
HONORABLE MENTION TO:
CHATMAN: Disables restaurant sound systems so you can have a conversation.
—fcabarbie

LUKE SIDEWALKWALKER: Able to elbow his way past crowds, on the sidewalk. In Times Square. At Christmastime.
—KattsDogma

ROBERT ALTMAN: Suspends alternate-side parking for anyone named Bob.
—BobKopac

THE TEXTURIZER: Old lady who pokes people hard with her cane when they're texting and about to walk into her.
—randi.jenkins

THE SNIT: Superhumanly quick Twitter unfollower.
—jhartarl

THE HEELER: One touch, and you can actually walk far in your six-inch stilettos.
—whosays

SUPERSWIPER: You'll never have to read the words "Please swipe again at this turnstile" ever again.
—FlirtySanchez

CAN MAN: Able to locate a clean bathroom, within walking distance, in 30 seconds or less.
—@eshap 

THE STOPNFRISKER: Can detect criminals with just a glance at their skin tone!
—RegisMayhem

CONFIDENCE MAN 2: Punches anyone who starts a sentence with "No offense, but…"
—@cfonseca_ny 

POOPERMAN: Able to cleanse long sidewalks with a single scoop.
—RustyShackelford

THE ALIENATOR: Acts indifferently at tourist spots; roams city encouraging public displays of disaffection.
—@DanielPaisner  
AND THE WINNER IS:
THE UNREALTOR: Appears when you are about to keep it real at work, and reminds you of your mortgage payment .
—@NyashaJunior