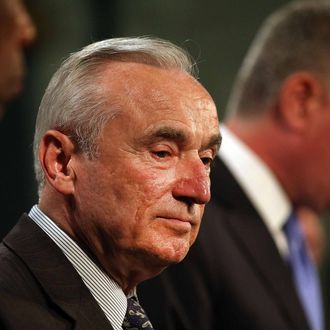 Photo: Spencer Platt/2014 Getty Images
Amid the public outrage over the death of Eric Garner, the NYPD announced that Daniel Pantaleo, the officer who was videotaped putting the Staten Island father in a chokehold, has been stripped of his gun and badge. According to a department spokesperson, the eight-year veteran of the force will "work in a non-enforcement capacity until further notice." The New York Daily News reports that another officer involved in the incident, four-year veteran Justin Damico, has been placed on desk duty, though he's been allowed to keep his cop accessories for now.
As many have noted, the NYPD banned the use of chokeholds two decades ago (though New Yorkers still frequently complain of being subjected to the maneuver by the police). According to the New York Post, an autopsy of Garner's body didn't show damage to his windpipe or neck bones. "There's no indication this is death by strangulation or asphyxia," a source told the Daily News. Someone else told the paper that while Garner likely died of a heart attack, the officers' actions "will probably go down as contributing factors." The 6-foot-5, 350-pound 43-year-old also suffered from asthma and diabetes.  
Investigators (some of whom visited Pantaleo's Staten Island home on Saturday) have been tasked with figuring out whether the police were justified in pulling Garner to the ground as they tried to arrest him. Just before he died, Garner — who repeatedly cried "I can't breathe!" as almost half a dozen NYPD officers piled onto him — argued with the cops, who were reportedly questioning him about selling untaxed cigarettes.
"Tactically, very little was done right," another source told the Daily News. "The first two cops (Pantaleo and Damico) didn't engage Garner … They appear to know him. Do something to put him at ease." Civil rights lawyer Ronald Kuby told the Post that footage of the incident demonstrated "criminally bad judgment" on the part of the officers.
Meanwhile, on Sunday, another video of Garner's fatal encounter with the police was posted to YouTube. For those who'd rather not watch: The recording shows a handcuffed Garner lying on the sidewalk for roughly seven minutes after losing consciousness. During that time, officers check his pockets and stand around waiting for an ambulance. Other than the one cop who pats the dying man on the shoulder and encourages him to "breathe in, breathe out," no one makes any effort to resuscitate him.
Later in the day, the FDNY announced that four EMS workers seen in the above video have been barred from duty "until the investigation and review of their response and operational procedures takes place."
This post has been updated throughout.