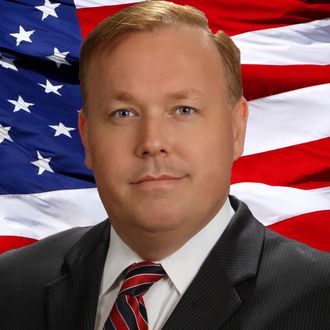 We already knew former Queens city councilman Dan Halloran had a lot of love to spread around — he had sexual relationships with at least two young staffers — but testimony in White Plains federal court yesterday revealed he didn't reserve his romance for the young women working beneath him. "Tell me you love me," read the text message he sent to former Bronx County Republican Party Chairman Joseph Savino after helping him secure a $15,000 bribe on Valentine's Day in 2013.
Savino texted back: "You are my fucking Valentine. I fucking love you."
Savino would have likely been less loving had he known the bribe came from an undercover FBI agent, and he and Halloran would soon be arrested for their roles in a plot to get Democratic State Senator Malcolm Smith on the GOP's mayoral ticket.
Halloran, who cannot be mentioned without also mentioning the time he was tied to a tree and flogged by leaders of his Germanic neo-heathenist religious group, is accused of arranging many of the bribes between Smith and GOP leaders and faces 45 years in prison if convicted.