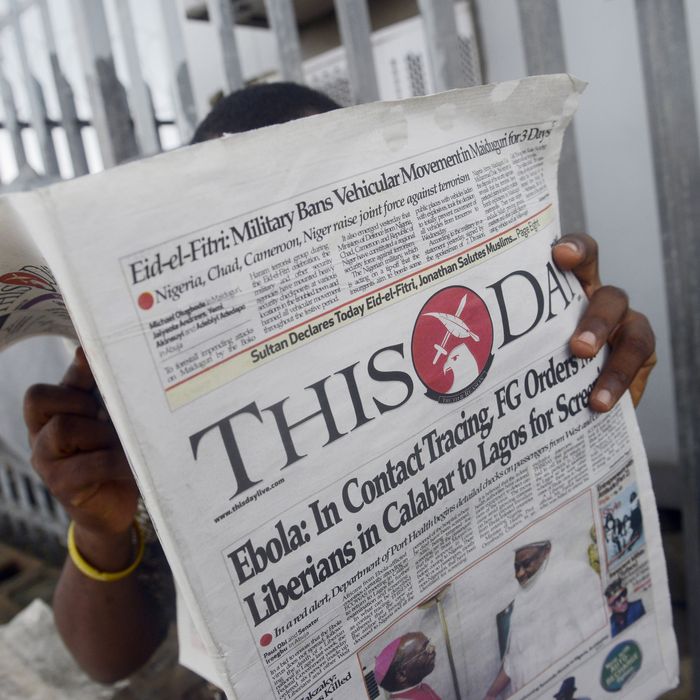 Photo: Pius Utomi Ekpei/AFP/Getty Images
This weekend brought the news that two American aid workers stationed in Liberia have contracted Ebola, a terrifying, untreatable virus that causes flulike symptoms, the breakdown of kidney and liver functions, internal and external bleeding, and, in up to 90 percent of cases, death, according to the World Health Organization. For those who haven't heard: West Africa is currently in the midst of what seems to be the worst-ever outbreak of the disease, which has killed 670 people in Guinea, Liberia, and Sierra Leone since February. Last week a 40-year-old Liberian man named Patrick Sawyer died from Ebola shortly after arriving at the airport in Lagos, Nigeria. His death — Nigeria's first documented case of the disease — has sparked fears that the virus will continue to spread from country to country in the area and, potentially, to the rest of the world.
Nigeria's health minister, Onyebuchi Chukwu, told the BBC that Sawyer "avoided contact with the general public" in heavily populated Lagos, as he went directly from the airport to a hospital, where he was placed under quarantine. Experts say that Ebola can only be transmitted through direct contact with an infected person's body fluids, making it pretty unlikely that someone caught the disease on one of the several connecting flights Sawyer took to Nigeria, though the Associated Press reports that he "was vomiting and had diarrhea aboard at least one of [the planes.]"
Also from the AP:
Nigerian authorities say [Sawyer's] fellow travelers were advised of Ebola's symptoms and then were allowed to leave. The incubation period can be as long as 21 days, meaning anyone infected may not fall ill for several weeks.

Health officials rely on "contact tracing" — locating anyone who may have been exposed, and then anyone who may have come into contact with that person. That may prove impossible, given that other passengers journeyed on to dozens of other cities.
The BBC reports that, after Sawyer died, Nigeria's biggest airline, Arik Air, suspended all flights to Liberia and Sierra Leone, and all of the country's other entry points have been put on "red alert." Meanwhile, Liberian President Ellen Johnson Sirleaf closed some of the country's borders and  announced that the airport in Liberia's capital, Monrovia, had instituted a new policy of inspecting and testing all passengers for Ebola. Officials in Sierra Leone and Guinea also said that international travelers departing from their airports were being checked for signs of fever.
As these measures suggest, international air travel represents Ebola's best opportunity to reach currently uninfected countries — and continents — but, as infectious-disease specialist Kamran Khan told NPR, "The chance of Ebola spreading out of West Africa is very, very low." But, he added, if it did spread, "Paris is probably the first city on the list," because 10 percent of flights leaving from the most heavily affected city — Conakry, Guinea — end up in the French capital.
Still, viral-disease expert W. Ian Lipkin told National Geographic that wealthier, developed countries don't really worry about the spread of Ebola, even if cases are discovered within their borders: 
Is it possible that somebody could be infected in one of these countries and fly to the U.S.? It is certainly possible. Given our health care system, it's unlikely that we would have widespread disease as a result. We would be on top of it, and we would be able to contain it. Our health care system affords people access to gloves and gowns and personal protective equipment. I don't think there's reason for panic that we're going to be hit with an outbreak of Ebola.
Lipkin added that concern over Ebola should be reserved for not-wealthy West African countries currently trying to fight the disease. "They don't have strong health care infrastructure," he said. "They need help. They don't have the resources to handle this."