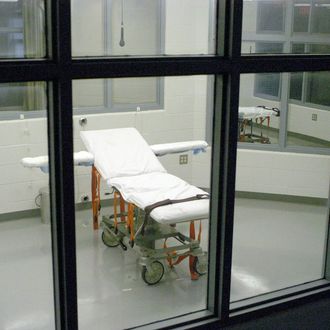 Photo: Stephen Lance Denee/AP
Across the country, death-row inmates have been suing to force states to reveal information about the drugs that will be used to put them to death, and for the first time a circuit court has ruled in an inmate's favor. On Saturday, the Ninth U.S. Circuit Court of Appeals ruled that Arizona must share information about the drugs and the qualifications of the medical personnel who will administer them if it intends to execute Joseph Wood on Wednesday. In the 2-1 decision, which overturned a lower court's ruling, the court said that the 55-year-old inmate could suffer "irreparable harm" if the state refuses to release the information. "Since Wood's execution would likely not be delayed much, if at all, by giving him the information he seeks, the public interest factor weighs in Wood's favor," the decision said.
Wood was convicted of walking into an auto-body shop in Tucson and shooting his 29-year-old ex-girlfriend Debbie Dietz and her 55-year-old father, Gene Dietz, in 1989. Arizona has said that since its preferred drugs are not available, it intends to use a combination of midazolam and hydromorphone to put Wood to death. Midazolam was used in the botched executions of Oklahoma inmate Clayton Lockett and Ohio inmate Dennis McGuire earlier this year. The state said the drugs have an expiration date of fall 2015, but it refused to name the manufacturer and batch numbers. It also argued that those administering the drugs could be identified if their qualifications were released.
On Sunday, Arizona appealed to the Ninth Circuit, requesting that the decision be reconsidered by a larger panel of judges. "Judge Bybee's dissent correctly points out that there is no First Amendment violation here," Arizona Attorney General Tom Horne told CBS 5 News. "This decision could impact other government agencies and essentially get rid of any state's confidentiality statute regarding executions."