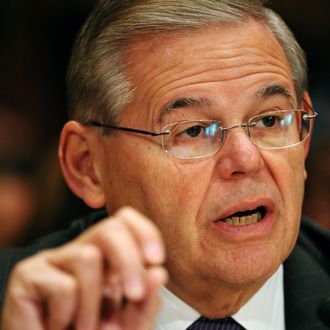 Photo: MANDEL NGAN/AFP/Getty Images
Senator Robert Menendez of New Jersey is under investigation for a variety of shady activities, but the most explosive accusation came in November 2012, when the Daily Caller reported that he solicited underage prostitutes in the Dominican Republic. Eventually the women recanted their story, and Tucker Carlson was forced to deny that his website paid for the story. Now, there's another wild twist: The Washington Post reports that Menendez is asking the Justice Department to investigate evidence obtained by U.S. investigators that the Cuban government made up the prostitute story and planted it in the media in an elaborate plot to take down one of their biggest opponents in the U.S. government. 
Sources say the CIA has evidence including IP addresses that links Cuban agents to the effort to smear Menendez. Last year, an intelligence report provided to U.S. officials suggested that Cuba's Directorate of Intelligence helped create a fake tipster named "Pete Williams," who told the FBI and others that the senator had participated in poolside sex parties with prostitutes. The Cuban operatives allegedly tracked Menendez's flights on his friend Dr. Salomon Melgen's private plane to make the time line more credible, and used business associates and lawyers in the Dominican Republic to create the "Pete Williams" persona.
It's unclear if the U.S. government has started looking into the claims about the Cubans, and it appears the Justice Department is still investigating whether Menendez broke the law when he intervened with federal officials to help Melgen on several occasions. 
When asked to comment on the possibility that the Daily Caller's reporters were duped by Cuban spies, Carlson told the Post, "I really can't assess it without more information," adding, "It's bizarre on its face, but also fascinating." For the time being, you'll have to draw your own conclusions about whether the Daily Caller's recent reports on the Obama's wasteful vacation spending and the "global warming zealots" who claim redheads are endangered were planted by the Cubans.
UPDATE: Carlson tells Business Insider, "I guess this means Menendez no longer thinks the story is part of a racist plot against him, as he initially suggested. But Cuban intelligence? It's a bizarre claim, and self-serving, and they've produced no evidence of any kind to prove it. Obviously we're skeptical, but we're making calls right now to see what we can dig up."