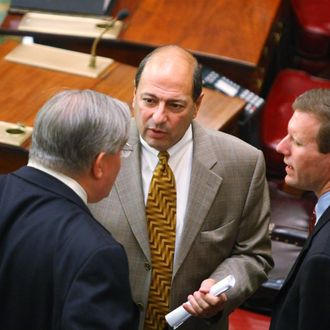 Photo: Daniel Barry/Getty Images
It took just four days after the resignation of State Assemblywoman Gabriela Rosa for another New York lawmaker to be accused of corruption. This time, it's Thomas Libous, the State Senate's second-highest-ranking Republican and a close ally of Governor Cuomo. The New York Times reports that Libous and his lawyer son, Matthew, were charged in separate indictments on Tuesday.
Senator Libous, who represents Broome, Chenango, Delaware, and Tioga Counties, allegedly lied to the FBI about promising to direct business to a law firm in exchange for the firm giving Matthew a job. He also allegedly instructed a lobbying firm to give the law firm $50,000 a year to cover his son's "inflated salary." Meanwhile, the younger Libous allegedly failed to report $50,000 in income on three years' worth of federal tax returns. He's also charged with failing to report as income $122,784 in personal expenses that he charged to a company where he was a partner. According to the Times, the indictments came as "a surprise" to the senator, even though he was well aware of the federal investigation into his affairs. 
Cuomo, who, the Times notes, is close enough to the Libouses to have attended Matthew's wedding, recently publicly praised the senator as "a great mentor and a great friend" who represented "the difference between the old Albany and the new Albany." Though Cuomo was talking about Libous's willingness to work with Democrats, it still probably wasn't the best choice of words.