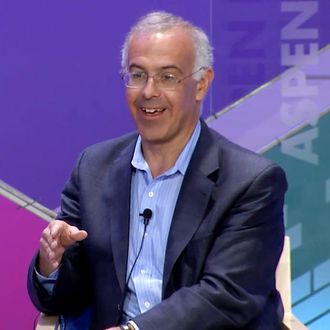 Katie Couric's hour-long interview with New York Times columnist and professor of humility David Brooks from the Aspen Ideas Festival this week is actually quite charming if you're into that sort of thing. A svelte-looking Brooks has quips for days as he describes the backlash he faced after he joined the Times, which consisted of  "punishingly negative" comments and nearly 300,000 emails about how he was no Paul Krugman. "It was the worst six months of my life," he recalled. "I had never been hated on a mass scale before." Then he just stopped reading the comments altogether, though that didn't stop a very brave, very hot hater from approaching him IRL.
"I think in my whole life I've had two people come up and be nasty to me," Brooks told Couric. "Once I was at the Museum of Modern Art and this astoundingly good-looking woman came up to me and said, 'I hate you.'" How do even react to something like that? "I was just stunned," he said. "I said, 'What are you doing Friday night?' No, I'm kidding."
The upsides of the job are that he can literally do whatever he wants. "I've never attended a meeting at the Times. We can write about anything. I've been at the Times for over a decade; I've never had a performance review. We can go anywhere we want. And we are just left alone." And women approach you in public, so it's basically every nerd's dream job.