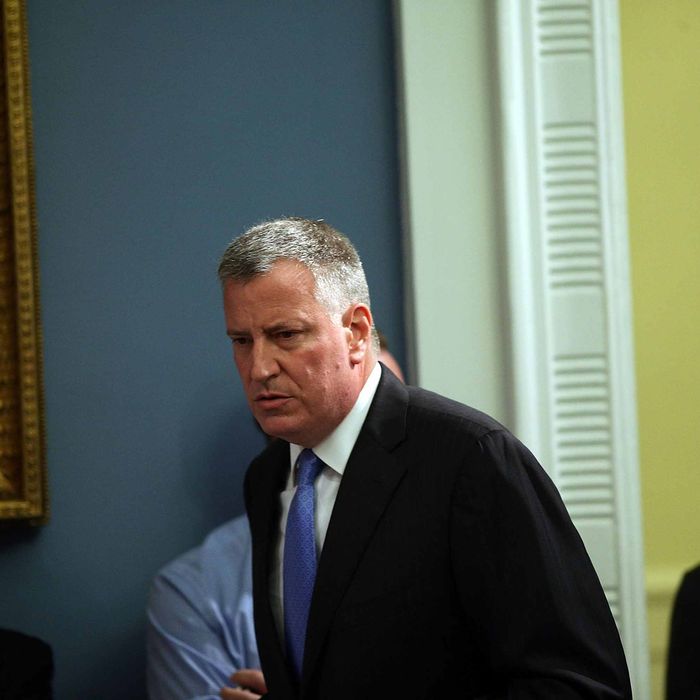 De Blasio responds to Garner's death.
Photo: Spencer Platt/2014 Getty Images
When LIRR workers and the MTA reached an agreement to avoid the strike that would have begun on Sunday, it seemed that Mayor de Blasio and his family would be able to leave for their ten-day Italian vacation on Friday, as scheduled. But on Friday evening, de Blasio's office announced that the mayor would remain in New York until Saturday "to attend to City business." According to the New York Times, the mayor wanted to "spend more time making calls to elected officials, community leaders and members of the clergy, and talking to the police" about Eric Garner, the 43-year-old Staten Island man who went into cardiac arrest and died after NYPD officers put him in a chokehold on Thursday. Anyone who has seen the cell phone video of five cops piling onto an unarmed Garner can probably understand why de Blasio felt the need to at least briefly postpone his trip.
During a Friday press conference, de Blasio said that he was "deeply troubled" by the footage and called for a thorough investigation into what happened to Garner, a father of six who suffered from asthma and diabetes. NYPD Commissioner Bill Bratton has already acknowledged that the maneuver his officer used "would appear to have been a chokehold," which was banned by the Department 20 years ago.
Witnesses say that Garner's fatal encounter with the police began just after he'd broken up an argument on Tompkinsville's Bay Street, where he was a fixture known for sometimes selling untaxed cigarettes. A group of cops (who may have been called to the scene over the fight) reportedly questioned Garner about his cigarette business and, according to what "law enforcement sources" told SILive, they took him down after he "absolutely resisted arrest" and "took a fighting stance." In the recording of the incident, Garner can be seen waving his arms and pleading to be left alone right before an officer begins choking from behind. He can also be heard repeatedly shouting "I can't breathe!" before going silent.
The New York Times reports that Garner had been arrested at least 30 times over his cigarette hustle, which he took up after his poor health forced him to quit his job as a Parks Department horticulturist. From the Times:
For years, Mr. Garner chafed at the scrutiny by the police, which he considered harassment. In 2007, he filed a handwritten complaint in federal court accusing a police officer of conducting a cavity search of him on the street, "digging his fingers in my rectum in the middle of the street" while people passed by.

More recently, Mr. Garner told lawyers at Legal Aid that he intended to take all the cases against him to trial. "He was adamant he wouldn't plead guilty to anything," said Christopher Pisciotta, the lawyer in charge of the Staten Island office of Legal Aid.
On Saturday, hundreds of people gathered at Harlem's National Action Network to hear Reverend Al Sharpton address Garner's death. "There are many crises that we are dealing with but none have impacted more and more than the reccurring problem with the New York City police," said Sharpton. "This is going to be a real test to see where policies are in the city now and whether the change that we feel occurred has occurred." (Sharpton added that de Blasio called Garner's widow and his mother, Esaw Garner and Gwen Carr.) Another rally was held later in the day on Jersey Street in Staten Island.
Esaw Garner spoke about her 6-foot-5-inch late husband in an interview with the New York Daily News: 
I couldn't watch the video of my husband being taken down last night," she said. "I was too upset. I never slept. I watched it this morning and I got even more upset."

"They killed him," she said. "They choked him and took him down and I could hear him screaming that he couldn't breathe. It was so hard to watch. He was a nonviolent gentle giant and they killed him."
She said that she heard about Garner's death on Thursday afternoon, just after he texted her to ask what they were having for dinner. "I rushed to the hospital in a cab at 4:10 p.m.," she recalled. "I couldn't get answers … Finally the doctors came out and said they did everything they could to save him."
A criminal investigation into the death, as well as an internal NYPD probe, are now under way. On Saturday, Patrolmen's Benevolent Association President Patrick J. Lynch asked the public to give the cops involved in the incident "the benefit of the doubt." "That benefit of the doubt comes in the form of the time it takes to do a full investigation in order to gather all the facts before reaching a conclusion," he said. "Force, by its very nature, is an ugly thing to witness." In Garner's case, that seems to be especially true.
This post has been updated throughout.