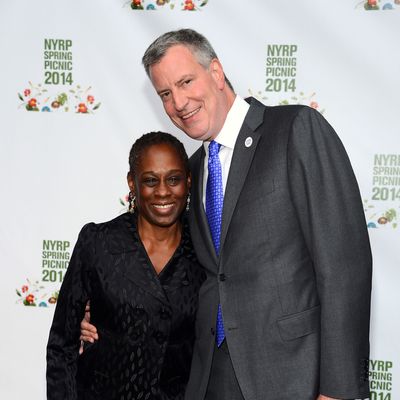 He's just too tall.
Photo: Theo Wargo/Getty Images
It's awfully hard to go unnoticed when you're nearly six-feet-six-inches tall. When you're that big and also the mayor of New York City in the social-media era, invisibility is nearly impossible. Yet Bill de Blasio keeps trying — and today brings two more examples of the mayor's foiled attempts at stealth.
On the front page of the Post, he's nabbed as "Billy the Cable Guy" for giving a cheerleading speech to members of the Communications Workers of America. The CWA is fighting with Cablevision over attempts to unionize Brooklyn technicians. The CWA was also one of the first unions to endorse de Blasio in last year's mayoral campaign.
That meeting last night, after which de Blasio exited through a back door and wouldn't comment to the Post, was only half-clandestine: Its existence was listed on the mayor's public schedule, though the subject and the location weren't. The Times, however, nails a more covert de Blasio operation: a June 10 headlining appearance at a fund-raiser for his favorite lobbying group. The event wasn't disclosed on de Blasio's schedule; a participant blew the mayor's cover by posting a photo of himself with de Blasio on a company website.
Elected officials need to be able to meet and speak privately. De Blasio, though, advertised himself as a champion of transparency, so finding a balance between secrecy and openness has been trickier. He's kept his word in some respects — conducting fairly regular wide-ranging press conferences, for instance. And the de Blasio–connected lobbying group, the Campaign for One New York, says that today it will release a list of its contributors "beyond what the law requires." Yet the cat-and-mouse about de Blasio's appearances before interest groups, donors, and politically wired lobbyists makes him look as if he has something to hide.
Elected officials also need to be able to go on vacation. De Blasio hasn't simply said he'll be traveling to Italy for nine days — in about as stark a contrast to Mike Bloomberg as possible, de Blasio's wife, Chirlane McCray, announced the family's impending jaunt with a blog post including cute snapshots from a previous trip.
Perversely enough, all that voluntary disclosure could end up coming back to haunt de Blasio. The mayor is intent on leaving town July 18, two days before the city may be hit by a Long Island Railroad strike. Yes, contract negotiations are in the hands of a state agency, and the mayor's physical presence might not make much practical difference. Still, if commuter chaos ensues while de Blasio is tweeting photos of himself twirling pasta, it will produce the biggest Where's Bill? story yet.