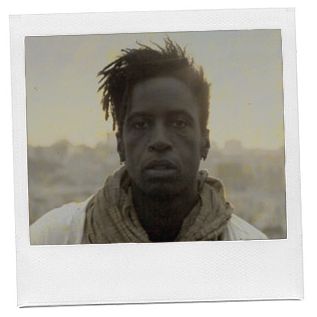 Name: Saul Williams
Age: "10"
Neighborhood: Washington Heights
Occupation: "Grippo King, Philosopher, and Artist," currently appearing in the Broadway musical Holler If Ya Hear Me, based on the lyrics of Tupac Shakur.

Who's your favorite New Yorker, living or dead, real or fictional?
Rammellzee, but I rotate this position on a quarterly basis.


What's the best meal you've eaten in New York?
Pizza. I used to love Pizza Mercato as an NYU student … and I still do. Simple New York pizza at its best. Other than that, the old Jamaican spots in Brooklyn used to be my ish: veggie patty, coco bread, and a ginger beer.

In one sentence, what do you actually do all day in your job?
Think.

What was your first job in New York?
Barista at a coffee shop on Grand Avenue in Clinton Hill, in 1995. I worked with fellow poet Carl Hancock Rux. My favorite thing about this place was the owner, Ted, used to sell slices of cake and would squint one eye and measure the size of the slice according to the size of the person he was cutting it for. I saw him give away an entire quarter of a cake as "a slice." I quit that same summer because I started making money reciting poetry.
What's the last thing you saw on Broadway?
Once. It was fantastic. As a film, I thought it revolutionized the idea of a musical. I loved it in the theater as well.

Do you give money to panhandlers?
Yes … and pot-handlers.

What's your drink?
Mojito or straight tequila.

How often do you prepare your own meals?
Normally two to three times a week, but not often while onstage. I got into cooking while living in Paris, with weekly farmers' markets. My most famous dish was my vegetarian pho. I make smoothies now. That's about it.

What's your favorite medication?
Weed.

What is the best thing in or about your apartment?
My wife, if she's home — otherwise, my Sub Phatty.

What's the craziest thing you've ever seen on the subway?
An entire car smiling in my direction.

When was the last time you stayed out past 3 a.m.?
A couple weeks ago for the Holler opening night party.

Which do you prefer, the old Times Square or the new Times Square?
The old one, even though pimps and peds used to try to pick me up outside of Port Authority as a teenager.

What do you think of Mayor de Blasio?
I'm happy to have a fresh face in office. Yet, he's not as much as a hippie as I would like him to be.

What do you hate most about living in New York?
Rent and the fact that I haven't lucked into my Greenwich Village dream building yet.

If you could banish one person from New York forever, who would it be?
Ray Kelly.

When's the last time you drove a car?
Had a Zipcar on Monday. I love driving.
Finish this sentence: The NYPD _____.
Sucks and has a despicably racist history.

Times, Post, or Daily News?
Fuck all three —  Long Live the Internets. Actually, I have nothing against the Daily News, but probably 'cause I never read it. The Times still has great articles, but oft-times comes down on the wrong side of history when it really counts. I take the Onion over the Post.

Where do you go to be alone?
The bathroom.

What makes someone a New Yorker?
Crossing the street without waiting for the light to change.