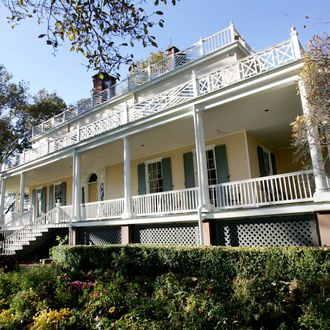 Photo: Marc Andrew Deley/FilmMagic
From an eight-day vacation to what could be an eight-year one, Mayor de Blasio and his family spent Sunday night in their giant new (old) house. Since Michael Bloomberg had a nicer place of his own, no one has lived in Gracie Mansion, the official mayoral residence of New York City, for the last 12-plus years, although Bloomberg did pitch in $7 million for renovations. Hopefully its history of rats has been taken care of.
The de Blasios have taken their time moving uptown from Park Slope, where they've spent the last 14 years. But now that Dante, who attends high school in Brooklyn, is done for the year, the official shift has commenced. Zigzagging around Italy for the last week was probably good practice.
First Lady Chirlane McCray has been blogging the process on her Tumblr, cataloging the important items that have made the jump across the river. "Imagine these family heirlooms in Gracie Mansion — the People's House," she wrote last month. "We are bringing 'home' to our new home and we are so excited about this new adventure!" Dante's friends are probably stoked, too.