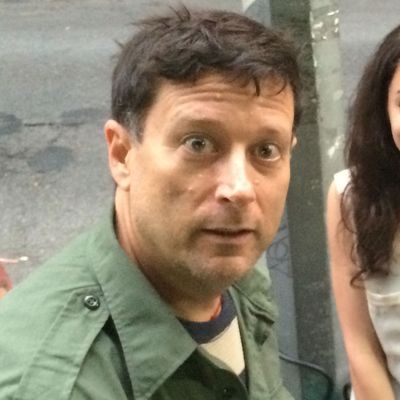 The real-life John Connor?
Photo: Courtesy of Josh Harris
Josh Harris, the internet 1.0 entrepreneur-cum-provocateur who threw one of the greatest parties in New York history and earned a reputation as a dark visionary of technological culture, has reemerged with a new project: mobilizing a "cyber army" to thwart Google's alleged plan to eventually replace human workers with robots. The beyond-colorful subject of the award-winning documentary We Live in Public claims that some recent comments by Google CEO Larry Page about job automation were actually a quiet declaration of war on an unsuspecting humankind by the tech giant.
Or at least that's how he framed it at a strange little event called Netband Command Thursday night in Nolita, during which he tried to recruit foot soldiers in the resistance effort against the search engine. 
"Google has said in no uncertain terms that they're going to kill off the human race with machines," said Harris, clad in military fatigues and combat boots, in front of the Snap Button Co. on Mott Street. "What we'll do as a cyber army is declare war on Google … because they said they're going to kill us. It's really profound."
While Google's apocalyptic intentions are certainly up for debate, it was Harris's return to the downtown art scene that drew a small crowd of curious partygoers to the cramped button shop, for an evening of Harris-orchestrated recruitment and oath-taking, billed as his "return to New York City after 15 years." Attendees were urged to take an on-camera oath — "I will do less evil than Google!" — administered by veteran journalist Anthony Haden Guest (who wrote about Netband Command here). 
It was a far cry from the epic bacchanalia known as QUIET that Harris presided over in 1999 in a six-story building he leased on Lower Broadway. QUIET enlisted 150 participants to live communally in a bunker equipped with a see-through shower, a shooting range, a boxing ring, an auditorium, and a mess hall, all wired with webcams and broadcast live, where participants could be seen fighting, fucking, and generally descending into chaos. 
It was shuttered by police after an early morning raid on January 1, 2000, but the the final night of QUIET was, according to one report, named by MoMA as one of New York's two best parties of the 20th century, along with Truman Capote's "Black and White" bash. "But that was uptown, and we were downtown," Harris points out.
Harris says he's now mounting a comeback of sorts, with the ultimate goal of building a "human chicken factory" installation at the Tate Modern museum in London, once he can raise the $100 million he estimates it will cost to construct. In the meantime, he's pitching a "next generation reality TV show" called Cybership (TV network heads, contact his agent at William Morris if you're interested).
The last time most people heard of Harris was as the subject of the 2009 documentary We Live in Public (trailer below). It detailed his late-'90s internet-bubble heyday, during which he amassed a net worth of about $80 million after his company Jupiter Communications went public, his founding of the internet TV station pseudo.com, and subsequent transformation into downtown art darling as the architect of QUIET and the doomed 2000 project We Live in Public, in which he sought to be filmed on the internet for 100 straight days with then-girlfriend Tanya Corrin (they split up during filming and she moved out).
Harris not only championed streaming video happenings that presaged everything from "Big Brother" to YouTube, but was a larger-than-life, loony visionary who sometimes dressed up as a creepy clown named Luvvy. The media loved it: Harris was dubbed "the Warhol of the Web" by Time, was featured on 60 Minutes, and naturally became a fixture on "Page Six." 
But that was then. After the We Live in Public project went bust and his money dried up, Harris relocated to an apple orchard upstate that he says was later seized by the Feds. Then he crashed in a Williamsburg loft for a few years, and later reinvented himself as a professional poker player in Las Vegas. Now, he says, he's the sole occupant of a 50-room "haunted mansion" in Lordville, New York. "It's like The Shining, but it's a nice Shining," he explains.
It's there where Harris says he hopes to build up his cyber army and plan his "next tactical action" against our Google overlords. But don't expect any armed resistance taking aim at Larry Page & Co. "I'm not into violence," he says. "There's two ways to view this resistance: the Whopper, which was the computer from War Games, and Hal from 2001. The Whopper is degrading; HAL is disconnecting. I'm a degrader. I don't want to harm any human." Robots, however, might want to watch their backs.