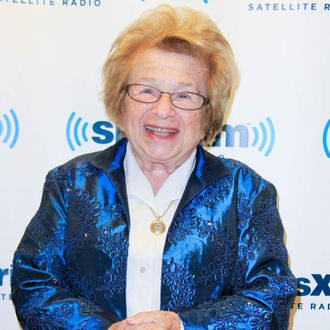 Photo: Rahav Segev/Retna Ltd./Corbis
Want some nooky in the bomb shelter? Dr. Ruth Westheimer says to go for it — as long as you've got a private room.
The spunky 86-year-old, who built a career on having the "right accent" for a psychotherapist, addressed a crowd of more than 600 Israelis in Tel Aviv's airport on Wednesday night. Despite near-constant shelling across the region over the last week, an undeterred Israeli wanted the good doctor's take on the best sex position for a bomb shelter. Death and tragedy aside, she obliged.
"I doubt that you can have an erection while worrying about the siren," Westheimer said, acknowledging that making love during war may not be for everyone. "But if you are one of those men or those women who can switch off their worries and think about sex, then have a good time."
Perhaps worried that the impatient inquirer would heed her advice right there in the safe-zone airport hangar, the good doctor quickly pointed out that lustful acts are best enjoyed when there are no neighbors around. The rest, we can only imagine, depends on how posh your private soundproof hideaway is.
"For Jews, sex has never been a sin; it's always been a mitzvah," Westheimer told the crowd. For the record, keeping your pants on during a missile attack is also an option. Sex may be a mitzvah, according to Dr. Ruth, but saying a prayer instead couldn't hurt.