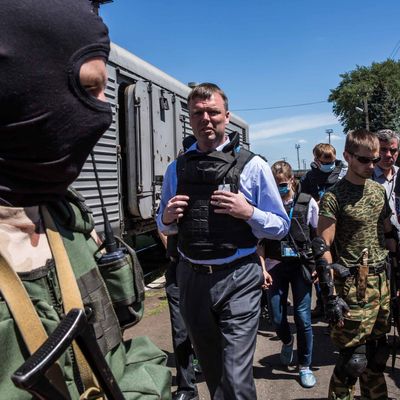 Photo: Brendan Hoffman/Getty Images
Four days after Malaysia Airlines Flight 17 was shot down in Ukraine, Dutch investigators have finally managed to examine the bodies of some of the plane's 298 passengers, most of whom were from the Netherlands. The majority of the remains are currently being held in train cars in the town of Torez, which is controlled by pro-Russia rebels. Those separatists have mostly been blocking access to the crash site and the bodies recovered from it, but the Dutch officials are pressing them to allow the train to leave soon.  
"We got the promise the train is going," the head of the Dutch forensics team, Peter Van Vilet, told the Associated Press, though he couldn't say exactly when that would happen. He added that, based on his inspection, "I think the storage of the bodies is of good quality," though the AP reports that a power outage may have stopped the train cars' cooling system overnight. (It was working again on Monday morning.)
Meanwhile, the New York Times reports that a larger, international group of 23 forensics experts have arrived in the eastern Ukraine city of Kharkiv, which is where they hope to have the bodies sent. "We are here to get the bodies back to their countries and to their families. We will try our utmost to do this as quickly as possible," said Michel Oz, one of the team's coordinators. However, he also said that he had "no information" on when the train might leave Torez for Kharkiv. 
Meanwhile, the United States and Europe are pressuring Putin to have the rebels release the bodies and open up the crash site. "It is clear that Russia must use her influence on the separatists to improve the situation on the ground," said Dutch Prime Minister Mark Rutte. "If in the coming days access to the disaster area remains inadequate, then all political, economic and financial options are on the table against those who are directly or indirectly responsible for that."
The Times reports that Putin gave a brief statement acknowledging that international officials needed secure access to the MH17 wreckage, though he also "accused unspecified nations of exploiting the disaster in pursuit of 'mercenary political goals.'" For now, representatives for the Organization for Security and Cooperation who found themselves barred from much of the crash site over the weekend said that the rebels have become less restrictive. 
President Obama addressed the delay — and the rebels responsible — in remarks from the White House this morning. "We know that Russia has trained them, armed them, and key leaders are Russian citizens," he said. "The burden is now on Russia."
"The world deserves to know exactly what happened," Obama said. "What exactly are they trying to hide?"