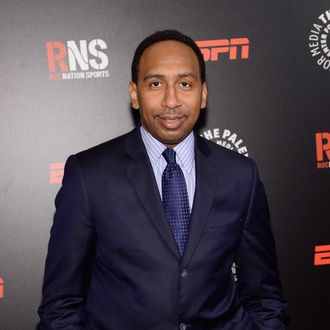 Photo: Jamie McCarthy/Getty Images
Baltimore Ravens running back Ray Rice knocks a woman unconscious, and the NFL suspends him for two games. First Take host Stephen A. Smith says that sometimes women can "provoke wrong actions" and should "try to make sure it doesn't happen," and ESPN gives him seven days. Everyone comes away looking awful.
"ESPN announced today that Stephen A. Smith will not appear on First Take or ESPN Radio for the next week," the network said in a statement today. "He will return to ESPN next Wednesday."
On Friday, Smith's victim-blaming monologue and subsequent tweets ostensibly condemned domestic violence, but still brought up, repeatedly, the "elements of provocation." His attempts to explain himself were equally terrible — "I simply asked: now what about the other side" — and a prerecorded on-air apology yesterday was still unconvincing.
But if we've learned anything from the behavior of these multi-billion-dollar corporations and their fans, it's that they're willing to forgive easily: