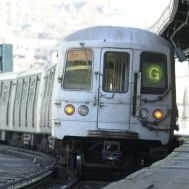 Residents of Greenpoint and Long Island City won't have to complain about the G train's lateness and crowdedness for the next five weeks — because it won't be stopping in their neighborhoods at all. (Cue the Joni Mitchell.) From 10:30 p.m. on Friday until September 2, G service will be shut down between Nassau Avenue in Brooklyn and Court Square in Queens so the MTA can finally repair some lingering damage from Hurricane Sandy. Service between Church Avenue and Nassau Avenue will operate with the same semi-regularity riders have come to expect from the city's most maligned subway line.
What are the cursed souls who rely on the G to get them to and from everything that's not within walking distance of their homes to do? The people of Long Island City — and Greenpointers who are willing to walk across the Pulaski Bridge — at least have the 7. As for the rest of them: Shuttle buses will run from Court Square to the Lorimer Street L station, and the MTA is offering free transfers to the J, M, and Z lines in Williamsburg. And, after a five-month closure caused by a snowstorm, the East River Ferry's Greenpoint dock is supposed to reopen by the end of the month, so that will eventually be an option.
Still, everyone should try to be extra nice to their Greenpoint-based friends for a little while, because the rest of their summer is kind of going to suck.