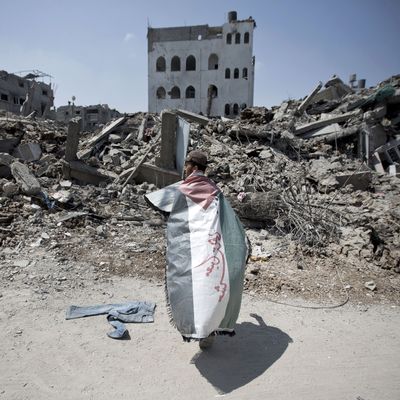 Photo: Mahmud Hams/AFP/Getty Images
A short lull in the fighting between Israel and militants in Gaza has ended. After a mutual 12-hour humanitarian ceasefire on Saturday, the two sides appeared to be launching fewer attacks. The relative quiet led some to believe that the Eid al-Fitr holiday, which marks the end of Ramadan and began on Monday, might be accompanied by an informal truce. Unfortunately, explosions at a Palestinian refugee camp and a Gaza City hospital, as well as  strikes in Israel, effectively eliminated that possibility.
The New York Times reports that no one seems to have been injured at Shifa hospital, though an outer wall of the compound was destroyed. However, the blast at the Shati refugee camp killed ten kids who were playing in a yard there, according to the Palestinian news agency WAFA. (The Gaza Health Ministry said it was eight kids and two adults.) "We saw pieces of children," Naji Adeen, whose son was wounded, told The Wall Street Journal. "There were so many ugly things there."
Though people in Gaza attributed the explosions to Israeli missiles, Israel's military insisted that stray rockets fired by militants were to blame. Meanwhile, Israel said that four of its people had been killed by mortar attacks and that soldiers had exchanged fire with Palestinian gunmen who emerged from one of the tunnels running under the border with Gaza.
In a televised address, Israeli Prime Minister Benjamin Netanyahu said, "We need to be ready for a prolonged campaign" in Gaza. Israel also warned civilians in three Gaza neighborhoods to evacuate their homes, presumably in anticipation of an expanding assault. 
At least for now, it seems that the end of the now-three-week-old war is not in sight.