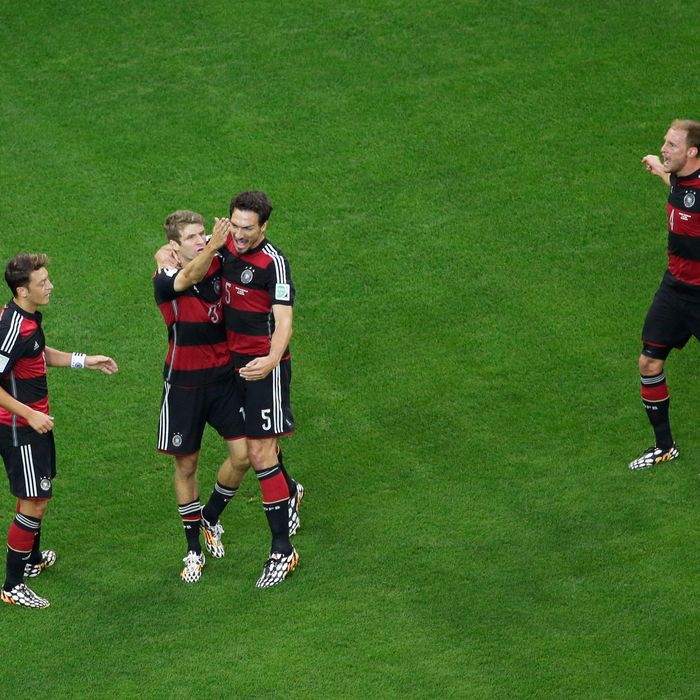 Photo: Felipe Dana - Pool/Getty Images
Brazil entered this World Cup as the favorites to win it all, but they had to play their semifinal game against Germany without an injured Neymar and a suspended Thiago Silva. The result was ugly: Germany routed the host country 7–1 to punch its ticket to Sunday's final. Relive the stunning match below with our GIF recap.
How big a deal was this game in Brazil? ESPN showed this comparison of a busy street in Ipanema at 4:30 p.m. local time yesterday, and at 4:30 p.m. today: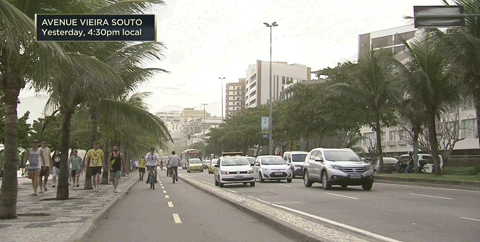 What a disappointment it would be for the host country. Germany's Thomas Müller scored the tenth World Cup goal of his career to give his country a 1–0 lead in the 11th minute: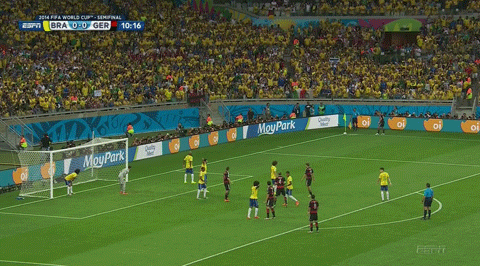 In the 23rd minute, Germany struck again, with Miroslav Klose scoring his record 16th World Cup goal to make it 2–0. (He broke the record of former Brazilian star Ronaldo.)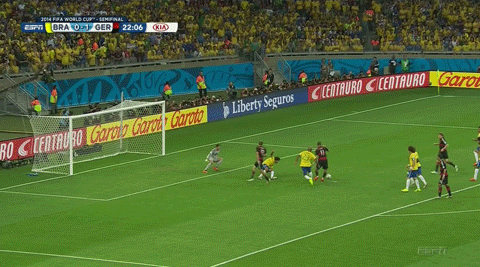 Toni Kroos scored in the 24th minute to make it 3–0 …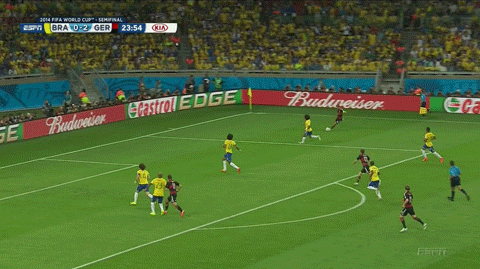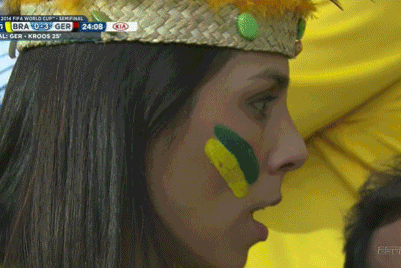 … and then he'd score again in the 26th to give Germany a stunning 4–0 lead. Brazil had never trailed by four goals in a World Cup game.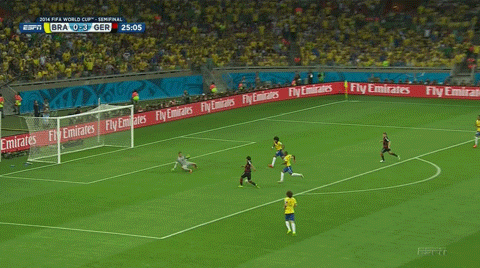 Their fans were distraught: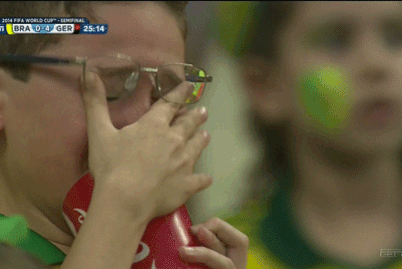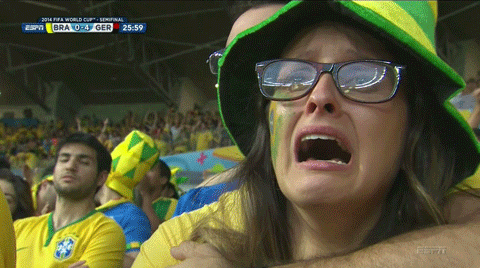 Minutes later, Germany would make it 5–0. Is there a mercy rule in the World Cup?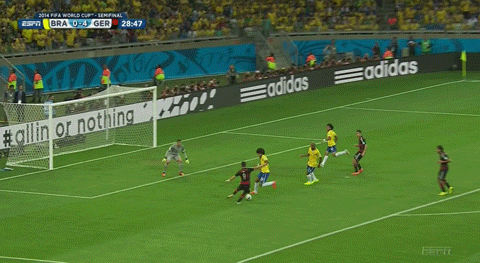 A storm knocked out the power at ESPN's studio: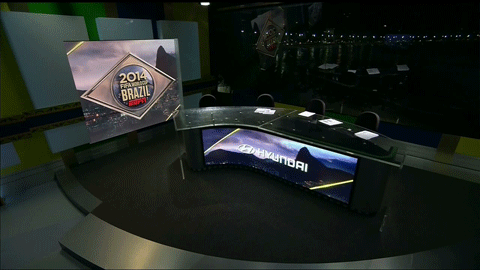 Brazil, down five goals at halftime, had a few good chances early in the second half, but was denied by goalkeeper Manuel Neuer: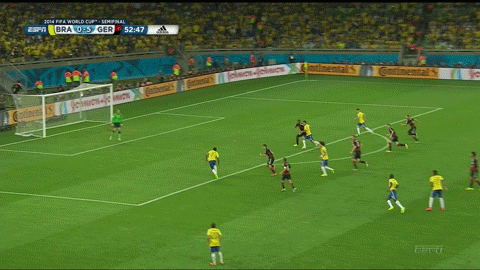 And Germany still wasn't done. This goal by André Schürrle made it 6–0, as the crowd booed the Brazilian team.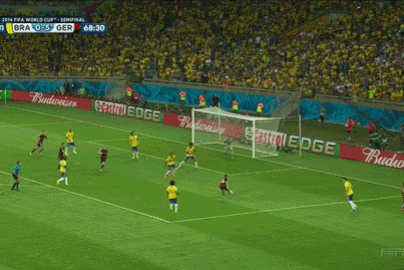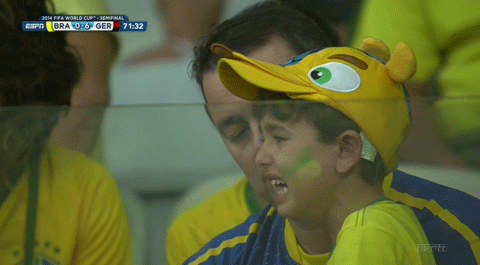 And then, in the 79th minute, Germany made it 7–0. Yikes.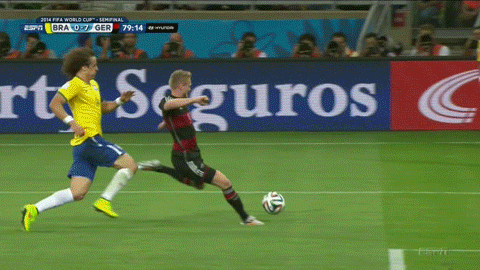 There were at least a few German fans in the house. They couldn't believe what they were seeing: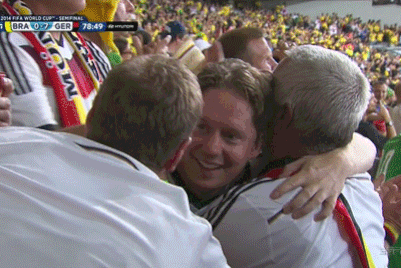 Brazil finally scored in the 90th minute to make it 7–1.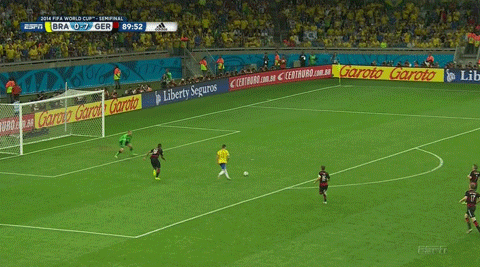 It was too little, too late, of course. Germany will face the winner of tomorrow's Argentina-Netherlands match in the final on Sunday, while Brazil will play the loser of that game for third place.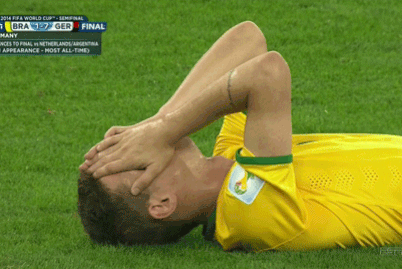 German fans, by the way, were instructed to remain in their seats after the game, so they could be escorted out safely.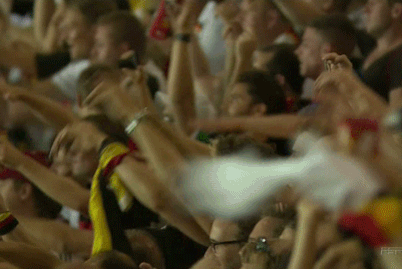 This post has been updated throughout.