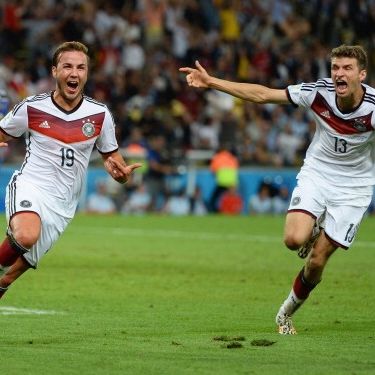 For all the embarrassment suffered by Brazil during this summer's World Cup, at least their games had goals. The same couldn't be said of today's World Cup Final between Germany and Argentina. Despite the presence of soccer's best player Lionel Messi and the World Cup's best player Thomas Müller, this match saw both sides put up big bagels for the first 90 minutes. As extra time slogged along it looked as though penalty kicks were going to decide this, which would have been an awful ending to an outstanding World Cup. Then 22-year-old substitute Mario Götze scored a goal, won Germany the World Cup, saved us all from penalties, and cemented his name in the history of German fußball. To the GIFs:
Thomas Müller, who's been the best player in the World Cup up until this point, proved he's also the best winker in the tournament. Pressure? What pressure?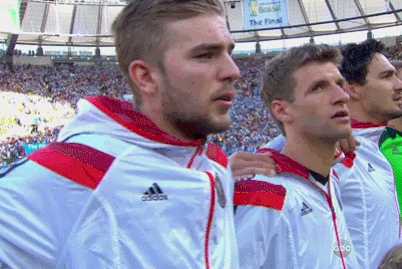 This brutal hit to the head of Christoph Kramer was the first real moment of note in the match.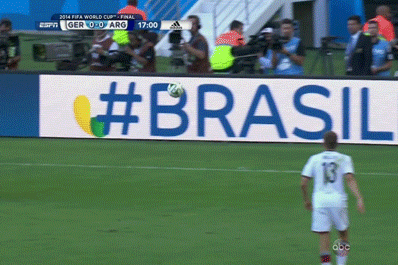 Germany's medical team checked him out and decided that sure, yeah, he was totally fine.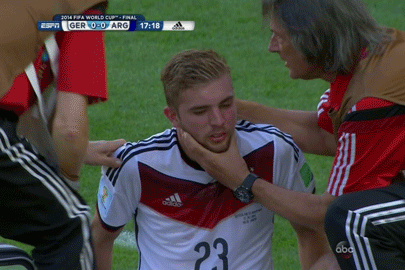 Thirteen minutes later he walked off the field looking like he'd just been hit by a Volkswagen.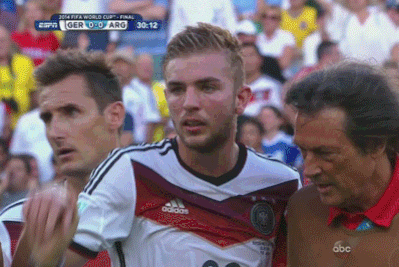 Meanwhile, both Argentina and Germany wasted good chances to notch goals. Here's Gonzalo Higuaín taking advantage of a major German screw-up by blasting the ball seven feet wide of the net.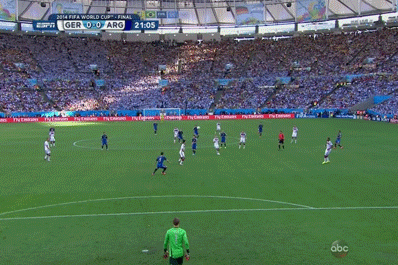 Argentina's next chance actually ended up in the back of the net. Problem was, Higuaín was offside.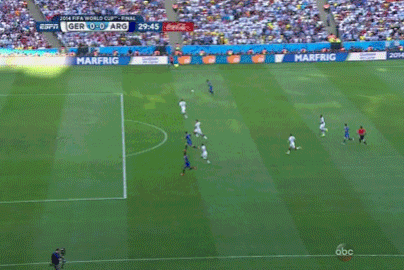 Clearly, he didn't realize it.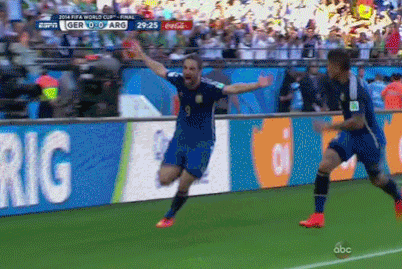 But the bench did.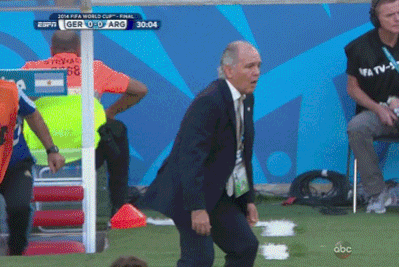 Germany's next two chances came off of Toni Kroos's foot …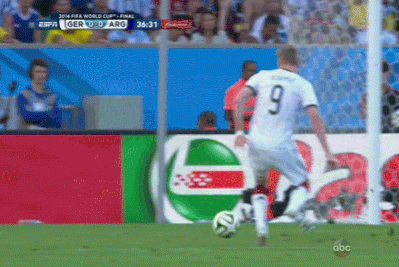 and Benedikt Höwedes's head.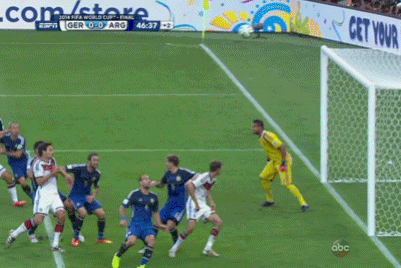 And so it was 0-0 at halftime. The world took a breath, watched David Beckham and a kid compare a big camera to a small camera …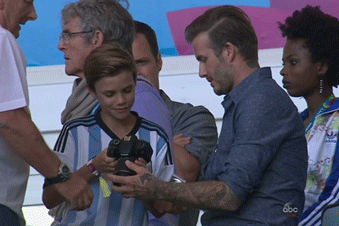 … and came back, to yet another missed chance. This one off the foot of Argentine superhero Lionel Messi.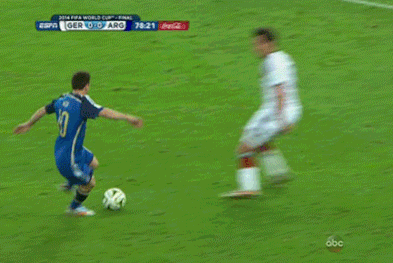 At this point, the camera turned toward the heavens, pleading to the gods for a goal.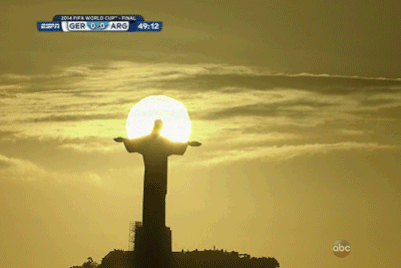 It was not to be. After 90 minutes, the score was 0-0 and 30 minutes of extra time began. There were more missed shots, which we won't bother showing you. Just know that one came off the foot of Rodrigo Palacio, whose miss was likely punishment for this awful, awful rat tail.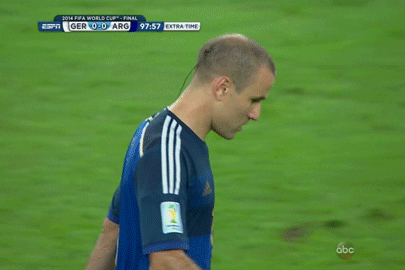 Fifteen minutes of extra time gone and guess what, no score. Everyone was nervous.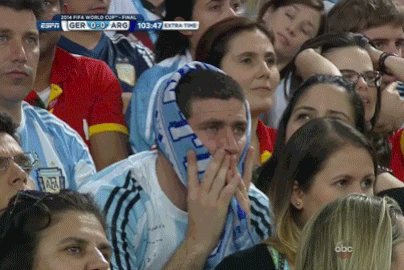 Then finally, mercifully, in the 112th minute, the tiny German Mario Götze brought down a cross from André Schürrle with his chest and slotted it home with his left foot.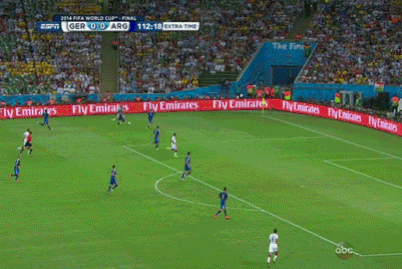 There was exuberant celebration.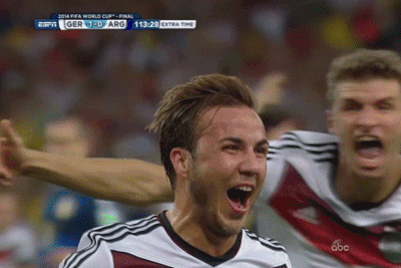 And restrained celebration from Angela Merkel.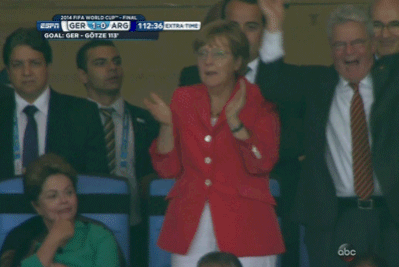 And ten more minutes until the whistle blew.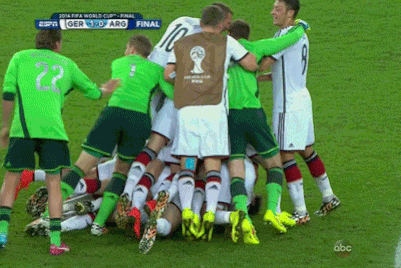 The Germans are champions of the World Cup! They celebrated by pretending to kiss …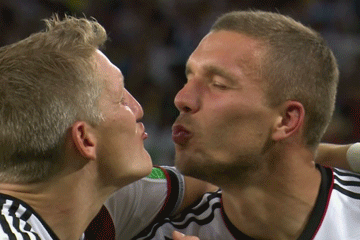 … and jumping on a stage.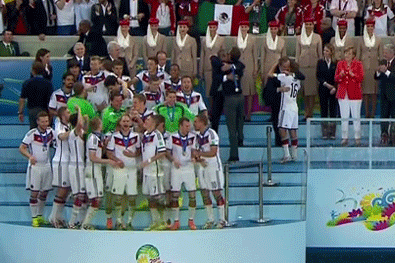 That's all folks. The World Cup's over. See you in Russia in 2018.