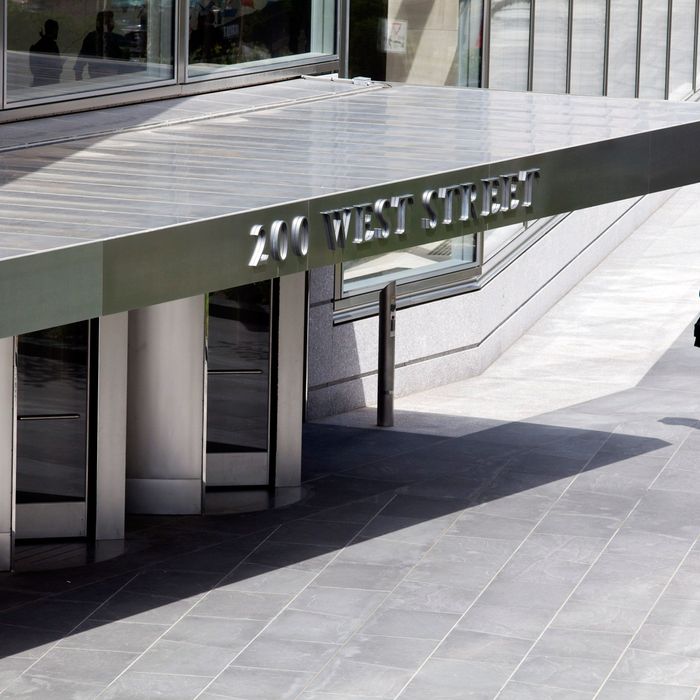 Is 200 West Street a hostile place for women?
Photo: JB Reed/Boomberg via Getty Images
Two female former Goldman employees are seeking class status for a gender discrimination lawsuit against the bank, alleging that during their time at the bank, they experienced systematic mistreatment including lower pay and slower promotions than their male counterparts, meetings at strip clubs, and not being invited to golf outings with their colleagues. (Sound familiar? Probably. Almost every major bank has been sued for gender discrimination at some point.) Overall, they say, Goldman's culture created a "boys' club atmosphere" and "an uncorrected culture of sexual harassment and assault" that put women at a disadvantage.
The women, Cristina Chen-Oster and Shanna Orlich, are seeking to expand their suit, first filed in 2010, to include at least 1,762 female associates and vice-presidents at the firm since 2002.
Goldman, clearly, doesn't agree with their allegations. "This is a normal and anticipated procedural step for any proposed class action lawsuit and does not change the case's lack of merit," Goldman spokesman David Wells said in a statement.
Much of what's in the latest lawsuit will sound depressingly familiar to people who have followed earlier Wall Street gender discrimination claims – outings to strip clubs, push-up contests on the trading floor, a comment from a male manager that "I have to compensate the men better. They are heads of households." The women allege that Goldman pays female associates 8 percent less than male associates, and that the promotion process is "invalid" and opaque," according to The Wall Street Journal. Most serious, Chen-Oster claims that she was sexually assaulted by a male colleague at a 1997 work outing and discouraged from reporting it to higher-ups. 

Unlike many lawsuits brought by former bank employees, this latest suit includes a woman currently employed by Goldman: Allison Gamba, a veteran trader who claimed that Goldman "has discriminated against me in the way it evaluated my performance" and "has denied me compensation that it has provided instead to similarly-situated men," according to BuzzFeed.
Bloomberg Businessweek says the Goldman allegations "almost have a banal feel to them." And it's true that a lawsuit alleging gender discrimination at a Wall Street investment bank isn't as novel as, say, sexual harassment claims made by the co-founder of a dating start-up. But if the claims don't seem new, well, perhaps that makes them even more notable. The worst kinds of Wolf of Wall Street–level excess may have disappeared from the big banks, but if allegations of widespread discrimination are so common that they barely register, perhaps the culture of finance still has plenty of room to improve.