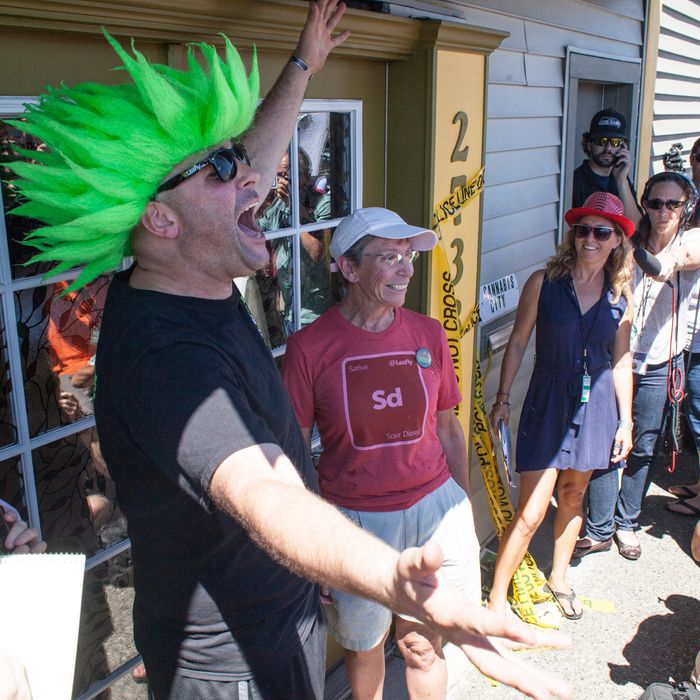 High expectations.
Photo: David Ryder/Getty Images
It's a hot, cloudless day on an industrial strip in Seattle's SoDo district, and hundreds of people are waiting patiently to buy marijuana. They are lined up along barricades that lead to the front door of City Cannabis, one of the few outlets in Washington State — and the only one in Seattle — ready to start selling pot to the general public on the first day it is legal to do so. There are no police on site.
There are store security guards present, but they wear neon-green fright wigs, and some of them dance and try to keep the crowd entertained ahead of the shop's noon opening. At 11:59 a.m., Cannabis City's ringleader takes the mike. He's been doing his schtick for hours, reiterating the theme of "making history," and now it's his big moment. "5, 4, 3, 2, 1," he hollers. "IT'S HIGH NOON!" Cheers erupt. Cannabis City is open. Anyone can buy weed in Seattle now.
For the next hour, media crews shuffle in and out of the store. VIP buyers (eligibility rules are not clear) have first dibs. The line is long — maybe 500 people — but the vibe is upbeat. Strangers mingle. Out front, a disapproving journalist interviews a state official who helped pass Initiative 502, the law that brought about this day. "I don't want to challenge you," the journalist says, and then suggests the packaging for retail pot violates the First Amendment. He appears to be the only dissenter. 
In line, there are more men than women, but not many more. Grinning like a maniac and sporting a rainbow bandanna, Robby, a 57-year-old Navy vet and hotel chef, is delighted to announce his plan. "I'm gonna buy legal weed for the last time!" Huh? "I told myself in the '70s that if I ever saw this day, I'd quit," he says. "They've taken the mystique out of it. The danger. The challenge. They've taken all the fun out of it."
Word spreads through the crowd that there are four strains available, but only ten pounds in total. This seems to be making people nervous. That's more than 4,500 grams, though. At $40 for two grams, including taxes, that's about $90,000 in sales.
By two in the afternoon, the media's dispersed and the line starts to really move. Hours spent standing in shadeless, 85-degree heat is wearing people out. But at least there's water. Lots of water. Every five minutes, Cannabis City employees trundle through the line with cases of bottled water. Over and over, they remind the crowd that they are making history and, more important, there's definitely going to be enough weed (at least for those who are currently in line).
One thing that the people in line don't like, however, is camera crews trying to interview them. "Would you want to be interviewed in a liquor store? Heading into a bar? I know it's legal now, but I don't need my boss seeing this," says a 24-year-old who won't give his name.
It takes about an hour and a half in line to get into the store, which looks like a smoke shop — except that between the glass cases containing bongs, there are other cases containing weed. Behind each case are two weed experts, who are happy to describe the feelings different varieties will induce and which ones are higher in THC. All four strains they carry are 80 percent Indica, which generally means they're a little more psychedelic than their Sativa counterparts.
It's so relaxed and comfortable inside that there's not even much to say about it. You learn about the product, you buy it, you leave.  
On his way out, one customer is stopped by a man waiting in line. "They set you with some dope in there?"
"You bet they did."
"Can I smell it?" The man in line sticks out his hand with gusto.
"Uhh … "

"I want to smell it," the man insists. The customer reluctantly opens his stapled, unmarked paper bag, takes out the sealed bag of pot, and hands it over. The man presses the bag to his face. "Oh, yeah," he moans. Then he reads the label. "21.8 percent THC, huh? That's most surely gonna get you high," he says with evident delight and hands back the bag.