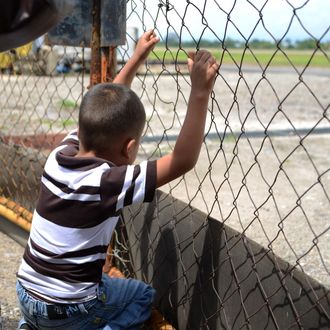 Photo: ORLANDO SIERRA/AFP/Getty Images
It doesn't look like Congress is going to solve the border crisis, or address President Obama's $3.7 billion emergency spending request, before lawmakers head out for a five-week recess at the end of next week, so the White House is floating another potential solution. The New York Times reports that the Obama administration is considering a plan to let children and young adults from Honduras apply to enter the United States as refugees before setting foot outside of their country. The idea is that if people can be screened inside Honduras, those who are rejected won't attempt the dangerous trek across the border … we hope.
According to a draft of the proposal, Hondurans under 21 would be screened by American immigration employees to see if they qualify for entry as refugees or on emergency humanitarian grounds. The surge in unaccompanied minors crossing the southern border has been partially attributed to the rise in gang violence in Honduras. In the future, the program could be extended to El Salvador and Guatemala, two other countries people are fleeing in droves. As long as the plan doesn't increase the overall number of refugees coming to the U.S., Obama may be able to enact it though executive order.
The proposal has some precedent. It's similar to a bill introduced recently by Republican Arizona senators John McCain and Jeff Flake, who proposed amending immigration laws to allow Central American children to be deported more quickly, while increasing the number of refugee applications from within El Salvador, Guatemala, and Honduras. The United States has conducted similar programs after crises in Haiti and Vietnam, but this would be the first time in-country screening programs were set up in a country accessible to the U.S. by land.
Administration officials stressed that they're considering many options, and one told The Wall Street Journal, "It doesn't mean we're going to do it." There are already many complaining that they shouldn't, since they believe it will only increase immigration to the U.S.
Additionally, the proposed plan doesn't sound like it would accommodate the massive number of people fleeing Central America. The draft estimates that the program will cost $47 million over two years if 5,000 people apply and 1,750 are accepted. "It is unclear how the administration determined those estimates," notes the Times, "given that since Oct. 1 more than 16,500 unaccompanied children traveled to the United States from Honduras alone."
Plus, it raises questions about whether Honduran children fit the legal definition of refugee. American law says people can be granted refugee status if they have a legitimate fear of persecution owing to race, religion, nationality, political opinion, or membership in a certain social group. Minors fleeing general gang violence might count as a "social group," but critics say that would create many new problems. "Once you stretch the definition of refugee to include people in countries where there is violence or widespread poverty, you are going to create the expectation that people will be granted asylum, based on the same claim, if they get to the United States," said Ira Mehlman, spokesman for the anti-immigration Federation for American Immigration Reform.