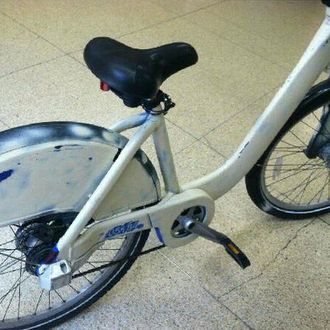 Like putting a bad bumper sticker and some truck nutz on a lifted Ferrari and hoping no one notices you, this quick and sloppy coat of white paint (Wite-Out?) is just not going to do the trick. In fact, it may make that big clunker of a bike even less discreet than its standard electric blue.
At least 67 stolen Citi Bikes have turned up around town so far, most of them far away from the docks in lower Manhattan and gentrified Brooklyn. This one with the terrible makeover was recovered in Queens, and bragged about on the local precinct's new Twitter account.
The NYPD's social media outreach on Twitter is a new project, but the 109th Precinct has taken to it already. In addition to flexing its muscles over the bike bust (a 68-year-old man took the fall for possessing stolen property), they've also reached out to Prince to show their station portrait (?!?):
If the NYPD is going to make Twitter weird, we're all for it.