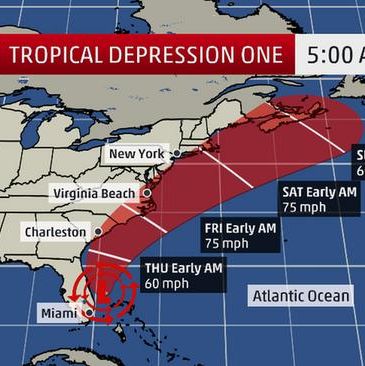 Photo: National Hurricane Center
Happy hurricane season, America!
Just chilling, for now, off the coast of Florida, soaking up those bad Florida vibes, is a tropical depression expected to become the first named Atlantic storm of the year, Arthur. Winds this morning were hovering around 35 mph as Arthur grows into a tropical storm, according to the National Hurricane Center, and forecasts say they could reach 75 mph, just over hurricane strength, by the end of the work week. Just in time for the holiday.
On July 4, projections put Hurricane Arthur around North Carolina's Outer Banks as a weak Category 1. As the storm moves north, the coast will get wet, but New York and New England are likely to be spared, Bloomberg reports: "most of the rain from the front will probably miss New York City, where the Fourth of July may start cloudy and then clear by nightfall."
According to one forecaster, "Anyone back behind the front will have a glorious weekend," so we should probably just cross our fingers and ignore it.