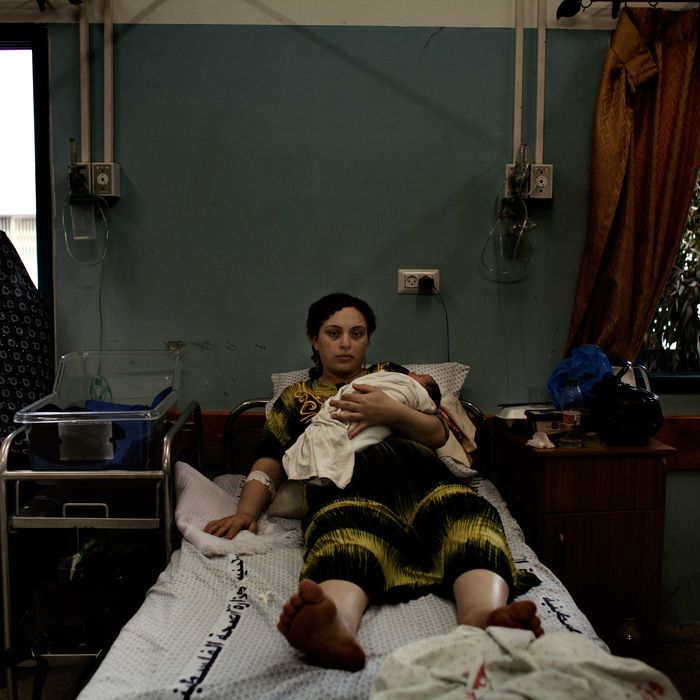 A Gazan woman rests after giving birth to her fourth child. She lives in the Shatha camp and will go back home soon, even though the area faces airstrikes.
Photo: Loulou d'Aki
Photographer Loulou d'Aki was in Berlin for a family vacation when Operation Defensive Edge broke out. The Swedish national, who had been based in Jerusalem for two years and had frequently traveled to Gaza, quickly cut her plans short and flew down to document the conflict. 
Once there, d'Aki found herself back at the morgue of Gaza City's al-Shifa Hospital, which she'd also covered during Operation Pillar of Defense in 2012. Again, she found herself noticing women in a building across the street. "They would just stand by the window, looking at what happened," she said. Her local fixer told her the building was a maternity ward.
D'Aki described the realization as "a bit creepy," but an apt analogy for the situation in Gaza. "There's a lot of women giving birth here every day, but there's also a lot of funerals," she said. "Death is just there."
This eerie coexistence of birth and death served as the inspiration for her new photo series. D'Aki spoke to and photographed women in the ward, many of whom leave the clinic just hours after giving birth. She says over 700 children have been born in that maternity ward since the war began, with death visible clearly through the hospital windows. —Katie Zavaski