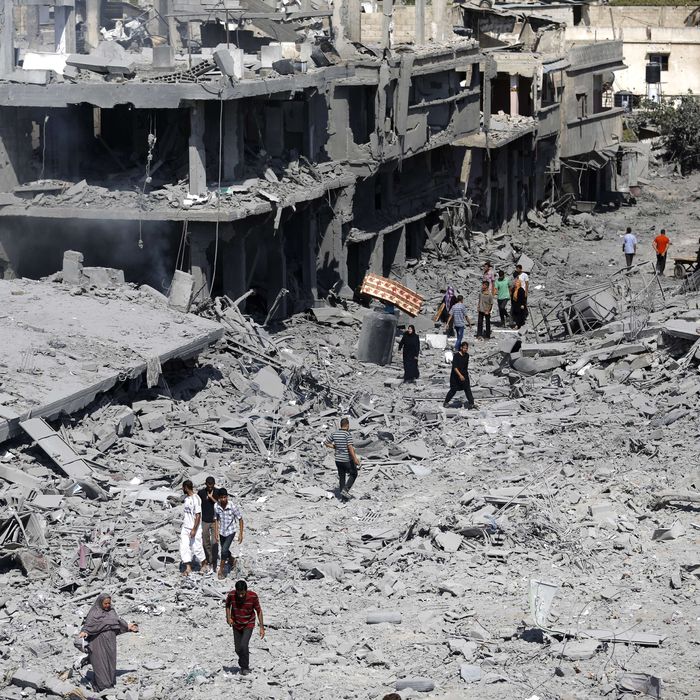 Though both Israel and Hamas have rejected Secretary of State John Kerry's plan for a seven-day truce to their 18-days-and-counting war, both sides have agreed to a 12-hour ceasefire. The pause in the bloodshed, which is set to last from 8 a.m. to 8 p.m. on Saturday, is intended as a humanitarian gesture. Later on Saturday, as Hamas resumed firing on Israel, officials announced that the Israeli cabinet had agreed to extend the ceasefire to 24 hours, though they said that troops would "respond" to rockets coming out of Gaza.
In Gaza, people poured into the streets after days in shelters, inspecting the damage, stocking up on supplies, and digging bodies out of the wreckage. International organizations are also working to evacuate wounded Palestinians, distribute food and other necessities, and make what repairs they can. Meanwhile, a New York Times reporter wrote, "Two men in black face masks and carrying assault rifles came walking from the opposite direction, suggesting that militants were using the pause to change positions."
Israel's troops have remained in Gaza during the lull. In a statement, the Israeli military said that it would use the time to continue "operational activities to locate and neutralize tunnels" built and used by Hamas.
37 Israeli soldiers and 860 Palestinians (75 percent of them civilians) have been killed since the fighting began on July 8. Sadly, those numbers will almost certainly begin rising again as soon as the brief ceasefire ends.
This post has been updated.